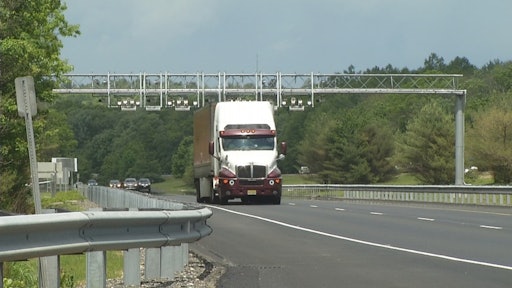 The American Trucking Associations has filed a lawsuit against Rhode Island seeking to have the RhodeWorks trucks-only toll overturned, Commercial Carrier Journal reports. Cumberland Farms Inc, M&M Transport Services Inc and New England Motor Freight joined the ATA as plaintiffs in the lawsuit. 
The lawsuit states that the tolling discriminates against interstate trucking companies and is unconstitutional because it "impedes the flow of interstate commerce," Commercial Carrier Journal reports. 
Since the plan was first announced in 2015, the trucking has been strongly opposed to it and has warned politicians in Rhode Island that they would take legal action. The tolling went into effect in June with two gallantries opening along 1-95 and 1-295, according to Commercial Carrier Journal. A total of 14 toll booths are planned and will charge between #.25 and $3.50 one-way. The plan received approval from the Federal Highway Administration in October 2016. 
Commercial Carrier Journal reports that the tolls will only apply to trucks, with expectations of drumming up $1.1 billion for the state over the next 10 years. 
In ATA's lawsuit, it argues that RhodeWorks violates the Constitution's Commerce Clause by discriminating against out-of-state trucking companies and designs the tolls in a way that does not  approximate use of the roads.