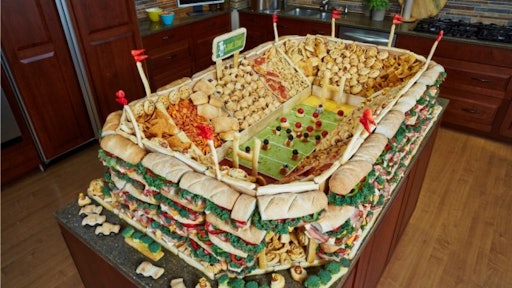 Nearly 200 million people will settle down to watch the New England Patriots and Philadelphia Eagles battle it out for the Vince Lombardi Trophy on Feb. 4. While viewers are indulging in super bowl snack favorites, not many are thinking about it got into their living rooms.
Americans will spend over $15 billion on the Super Bowl this year. A survey found that about 82 percent of people will purchase food and beverages for the big night. With all these purchases that are happening, the goods will need to get to their destinations on time.
Major events like the Super Bowl have a little effect on the supply chain, but can be profound if products don't move off the shelves or doesn't get to the store on time.
The introduction of ELDs, lack of drivers and rising rates have created mixture of anxiety throughout the shipping industry- especially when it comes to timely events. Luckily, shippers can prepare some products for the big day in advance. For instance, beverages have a longer shelf life, so they can be moved to retailers days, sometimes weeks, in advance.
Some products are time sensitive, though. Staple Super Bowl snacks like chicken wings can't move truckloads too far in advance, making visibility and real time notifications critical. Without these things, a load might be lost and will create a loss of revenue and market share – a very big deal on Super Bowl Sunday.
To read the full original article, please click here.