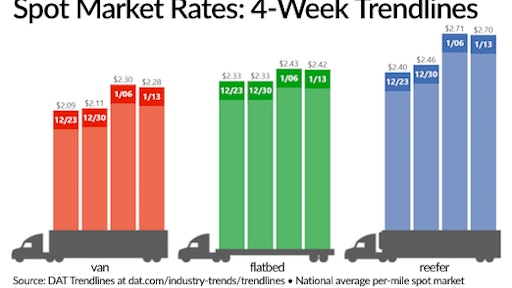 National average spot truckload rates declined as the number of available trucks jumped 52 percent during the week ending Jan. 13, according to DAT Solutions. However, spot van, refrigerated and flatbed freight rates remain higher than at any point in 2017.
The number of available loads posted was up 17 percent, a sign that freight patterns have normalized after two weeks of holidays, disruptive weather and more rigid schedules imposed by the use of electronic logging devices.
Load-to-truck ratios for all three equipment types edged down from record highs:
       Van load-to-truck ratio: 10.7, down from 14.7 the previous week
        Flatbed ratio: 53.7, down from 63.5
        Reefer ratio: 18.4, down from 25.2
 Van Loads
The number of van load posts increased 12 percent and truck posts surged 54 percent. The national average spot van rate dipped 2 cents to $2.28/mile. Outbound rates from many major markets held firm:
          Atlanta, $2.44/mile, down 2 cents
          Houston, $1.99/mile, down 1 cent
          Philadelphia, $2.29/mile, up 1 cent
          Chicago, $3.00/mile, up 1 cent
Notable exceptions: Buffalo, New York, up 21 cents to $2.98/mile, building on a 5-cent increase the previous week; Los Angeles, $2.71/mile, down 16 cents; and Charlotte, $2.64/mile, up 10 cents.
Refrigerated Trailers
Demand for refrigerated trailers remains solid, with load posts up 6 percent. Truck posts were up 46 percent compared to the previous week. This helped send the national average reefer rate down a penny to $2.70 per mile. Volumes are down seasonally, a sign that reefer rates may have crested as we move deeper into a post-holiday period.
Flatbed Rate
The national average flatbed rate slipped 1 cent to $2.42/mile to start the year. Flatbed load posts increased 35 percent after a 46 percent increase the previous week, and truck posts increased 60 percent.
The national average price of on-highway diesel fuel was unchanged at $3.00/gallon. Spot truckload freight rates include a fuel surcharge portion.
Rates are derived from DAT® RateView, which provides real-time reports on prevailing spot market and contract rates, as well as historical rate and capacity trends. For the latest spot market load availability and rate information, visit dat.com/industry-trends/trendlines and join the conversation on Twitter with @LoadBoards.