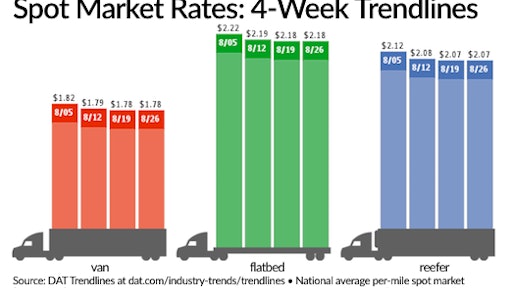 Hurricane Harvey hit on Friday, Aug. 25, so its effect on supply chains and spot truckload rates won't be fully reflected until next week, said DAT Solutions, which operates the DAT network of load boards. However, there was a continuation of unusually high demand for truckload capacity during the week ending Aug. 26. The number of posted loads increased 1.0 percent compared to the previous week while available capacity fell 1.8 percent.
Van load posts increased 6 percent, and truck posts declined 1 percent; flatbed load posts declined 7 percent, while truck posts dipped 3 percent. Reefer load posts increased 5 percent, and truck posts fell 2 percent. Reefer volumes continue to tick up, with reefer demand being especially strong in the Upper Midwest.
Load-to-truck ratios rose for vans (5.2 loads per truck, up 7 percent) and reefers (10.0, also up 7 percent), but declined for flatbeds (26.5, down 4 percent). That could change this week with relief supplies likely to move on flatbeds.
National average rates were unchanged compared to the previous week:
Van: $1.78/mile
Flatbed: $2.18/mile
Reefer: $2.07/mile
In Houston, the average outbound van rate was up a penny to $1.69/mile, with the bulk of activity taking place before the weekend. Looking ahead, spot rates are expected to rise for loads heading into Houston and staging areas for relief freight including San Antonio, Dallas and Lafayette, Louisiana. Carriers will want to account for delays unloading, road obstructions and traffic, as well as the difficulty finding loads leaving those markets.
The national average on-highway diesel price added a penny to $2.61/gallon. Fuel prices are likely to rise more in the coming weeks because so many refineries are offline in Houston.
For more information about how Harvey is affecting truckload freight, follow the DAT Freight Talk blog at dat.com/blog. Rates are derived from DAT® RateView, which provides real-time reports on prevailing spot market and contract rates, as well as historical rate and capacity trends. All reported rates include fuel surcharges.