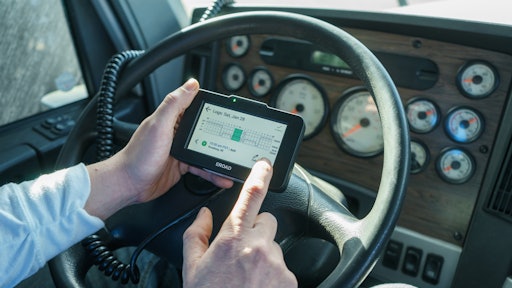 The Commercial Vehicle Safety Alliance (CVSA) announced Monday it will postpone putting drivers out-of-service (OOSC) for not complying with the electronic logging device (ELD) mandate until April 1, 2018, though the mandate takes effect on Dec. 18.
Beginning Dec. 18, "inspectors and roadside enforcement personnel will begin documenting violations on roadside inspection reports and, at the jurisdiction's discretion, will issue citations to commercial motor vehicle drivers operating vehicles without a compliant ELD," the CVSA said in a statement.
CVSA added that it "supports moving forward with the compliance date as specified in the rule. However, setting an April 1, 2018, effective date for applying the ELD OOSC will provide the motor carrier industry, shippers and the roadside enforcement community with time to adjust to the new requirement before vehicles are placed out of service for ELD violations."
CVSA member jurisdictions have used this phased-in approach in the past when implementing a significant change in regulatory requirements. The CVSA Board of Directors, in consultation with Federal Motor Carrier Safety Administration (FMCSA) and the motor carrier industry, agreed that the phased-in approach to implementation of the ELD requirements outlined in the North American Standard Out-of-Service Criteria will help promote a smoother transition to the new ELD requirement.