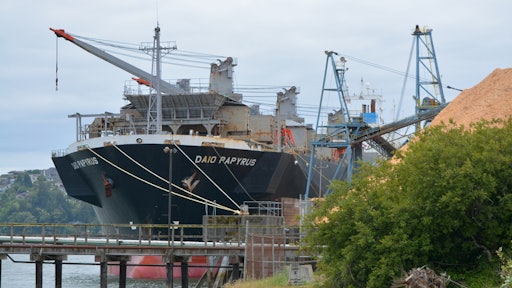 The Port of Coos Bay has proposed $400 million channel modification project.
The project would involve dredging the current channel and deepening it 8 feet along more than 8 miles of river, beginning near Roseburg Forest Products. The same stretch west of the McCullough Bridge would likewise be widened 150 feet.
A 1,400 foot long by 1,100 foot wide "vessel-turning basin" would also be created at the upper end of the proposed modification.
Currently, the channel sits at a depth of 37 feet with a width of 300 feet.
Those numbers would change to 45-feet deep by 450-feet wide at the project's conclusion.
If completed, the work would be the largest and deepest dredging project in Coos Bay's history.
Mike Dunning, the Port's director of maritime operations, purports the modifications are necessary to stay relevant in an evolving market.
"We want to build a robust shipping port in Coos Bay but ships are getting bigger," he said, adding that ports like Los Angeles and Charleston, South Carolina were already dredging to make their channels more than 50 feet deep.
"It makes us more competitive (with bigger ports)," he said.
More information about the project can be found HERE.