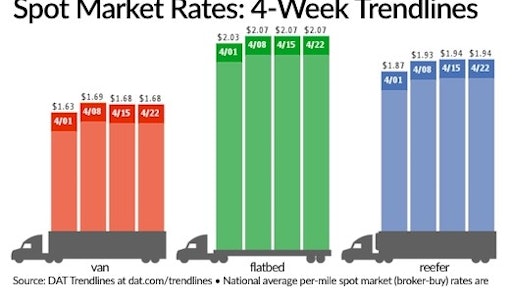 The national average spot truckload rates for van, reefer and flatbed freight held steady during the week ending April 22, while prices in many major freight markets continued a slow springtime climb, according to DAT Solutions, which operates the DAT network of load boards.
The number of available loads on DAT load boards jumped 10 percent compared to the previous week, while capacity tightened 1.5 percent. Load-to-truck ratios increased for all three equipment types:
Van ratio: 3.6 loads per truck, up 11 percent.
Reefer ratio: 6.7, up 2 percent.
Flatbed ratio: 47.8, up 20 percent.
Van Trends

The national average van rate was unchanged and steady at $1.68 per mile. Lanes with rising rates continue to outnumber falling lanes on a week-to-week basis but not enough to bump up the national average.

The average rate on each of these lanes hit their highest marks in the last six weeks:
Philadelphia-Boston jumped up 27 cents to $3.34 per mile.
Memphis-Columbus hit $1.89 per mile, up 14 cents.
Dallas-Denver rose 11 cents to $1.94 per mile.
Stockton-Seattle added 15 cents for $2.18 per mile .
Buffalo and Denver are the only markets where outbound rates are down more than 1 percent for the month.
The top five markets for van load posts were all in the south:
Atlanta, $1.94 per mile, up 2 cents.
Charlotte, $1.91 per mile, down 1 cent.
Houston, $1.66 per mile, down 1 cent.
Dallas, $1.64 per mile, up 5 cents.
Memphis, $1.95 per mile, unchanged.
Reefer Trends
Last week reefer load posts held steady, while truck posts declined 2 percent. One market where freight patterns are shifting is Florida. Volumes were down, and wildfires and evacuations made it more expensive to move freight.

Miami-Boston reefer rates were up 23 cents to $2.14 per mile, and Lakeland, Florida-Baltimore climbed 26 cents to $2.00 per mile.

The largest drop last week was on the lane from Chicago-Philadelphia, which fell 23 cents to $2.37 per mile.
Flatbed Trends
The flatbed load-to-truck ratio jumped 20 percent to 47.8 loads per truck. That's the highest weekly flatbed load-to-truck ratio in years. Flatbed load posts increased 14 percent, while truck posts declined 5 percent.

Rates are derived from DAT RateView, which provides real-time reports on prevailing spot market and contract rates, as well as historical rate and capacity trends. All reported rates include fuel surcharges.