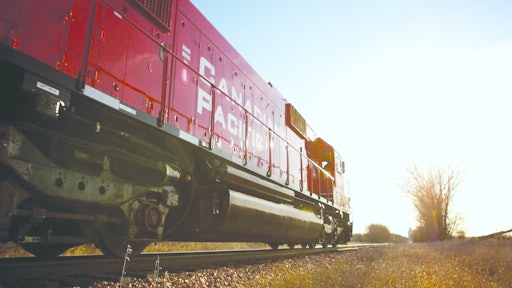 Canadian Pacific has announced they are preparing to move the delayed Western Canadian grain crop to market, sending a letter to the federal ministers of transportation and agriculture late last week outlining preparation for the crop year and calling for supply chain collaboration.

"We have all the assets in place to move the crop to market, but given wet weather, snow and other factors, the vast majority of the crop is not yet ready to move," said CP Chief Executive Officer E. Hunter Harrison. "While CP is just one part of the global supply chain, we are taking a leadership role in ensuring the supply chain works together so that the Canadian economy — including farmers and shippers — reaps maximum benefit."

Despite forecasts for a record or near-record crop and as a result of the delayed harvest year-to-date, CP has moved less Canadian grain than in 2014-15, and less than the three-year average, according to CP. In each of the last three full crop years, the Class I moved record volumes of grain, CP officials said in a press release.

Working in tandem with Canadian government officials, CP developed a system designed to allow for open and transparent sharing of information to government on its grain movements. In addition to the information being shared with Transport Canada, and consistent with data provided post 2013-14 crop-year and the minimum mandate, CP is voluntarily launching a weekly supply chain scorecard Oct. 19 at www.cpr.ca/grain. The scorecard will outline CP's performance for the previous grain week and include, "when necessary," detailed information on any internal or external factors affecting grain movement, CP said.
To read more, click here.