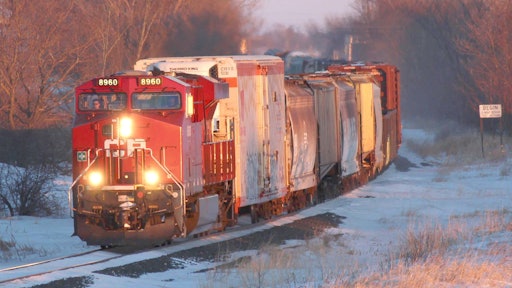 Canadian Pacific Railway Ltd. (CP) has terminated efforts to merge with Norfolk Southern Corp. (NS), including the withdrawal of a resolution asking NS shareholders to vote in favor of good-faith negotiations between the two companies. No further financial offers or overtures to meet with the NS board of directors are planned at this time.
CP proposed the creation of what it called an end-to-end railroad that would enhance competition, ease freight congestion now and into the future, improve service to shippers, better support the economy and generate significant shareholder value for both companies.
"We have long recognized that consolidation is necessary for the North American rail industry to meet the demands of a growing economy, but with no clear path to a friendly merger at this time, we will turn all of our focus and energy to serving our customers and creating long term value for CP shareholders," said CP CEO E. Hunter Harrison.
Editors Insight: Many shippers will welcome this announcement based on the widely-held belief, shared by regulators, that a consolidated railway will result in higher rail rates and fewer service options. Canadian Pacific, for its part, claimed the merger would create an integrated transcontinental railroad with the scale and reach to deliver unsurpassed levels of safety and service to the customers. CP also claimed time-consuming bottlenecks in busy hubs like Chicago could be eliminated.
No one can predict the future. But the reality is that depressed rail cargo has undermined rail profitability and the ability to invest in capital improvements. Food Logistics reported in January that Norfolk Southern has planned a restructuring that will eliminate 1,200 jobs this year, idle track and combine operations and reduce capital spending.
Food Logistics also reports today that BNSF is considering scrapping plans for an intermodal facility near the ports of Los Angeles and Long Beach following a California judge's recent ruling that found fault with the proposed project's environmental review process.
What will happen when the expanded Panama Canal increases the need for rail transport in the continental U.S.? Will rail infrastructure be up to the task? 4-12-16 By Elliot Maras