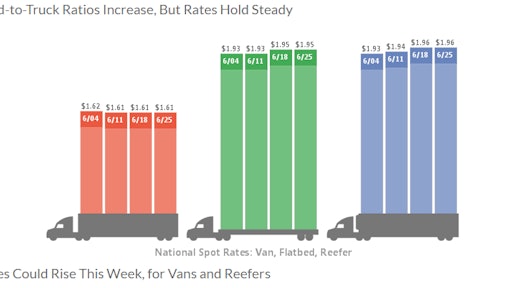 National average spot truckload rates were unchanged as spot market activity slowed during the week ending June 25, according to DAT Solutions, which operates the DAT network of load boards.

The total number of posted loads fell 6.2 percent while available truck capacity dropped 9.3 percent. Load-to-truck ratios increased across all three equipment types.

The van load-to-truck ratio rose 3 percent to 2.8 loads per truck, reflecting a typical buildup in demand to close the second quarter. The national average spot van rate was unchanged at $1.61/mile for the third straight week.
California markets continue to pick up, with the average outbound rate from Los Angeles adding 7 cents to $2.21/mile. Demand continues to heat up for vans in the Southeast, as loads from Charlotte, N.C., averaged $2.09/mile, up 5 cents, while Atlanta rose 4 cents to $1.94/mile.
The national average spot market rate was unchanged at $1.95/mile. However, a 9 percent increase in the load-to-truck ratio—to 5.8 available reefer loads per truck—signals that rates are likely to rise soon due to end-of-quarter and pre-holiday demand.
At $1.95/mile, the national average flatbed rate was unchanged compared to the previous week and several markets and lanes gave back last week's gains:

- Pittsburgh, Pa. to Houston, Texas: $1.15/mile, down 46 cents
- Harrisburg, Pa.: $3.01/mile, a 5-cent drop
- Rock Island, Ill.: $2.37/mile, down 8 cents
- Baltimore, Md. to Springfield, Ill.: $3.30/mile, down 11 cents

Flatbed load posts fell 7 percent and capacity decreased 4 percent last week, as the load-to-truck ratio fell 3 percent to 17.6 loads per truck.

Rates are derived from DAT RateView, which provides real-time reports on prevailing spot market and contract rates, as well as historical rate and capacity trends. All reported rates include fuel surcharges.

Get the latest rate trends at DAT.com/Trendlines or join the conversation on Twitter with @LoadBoards.