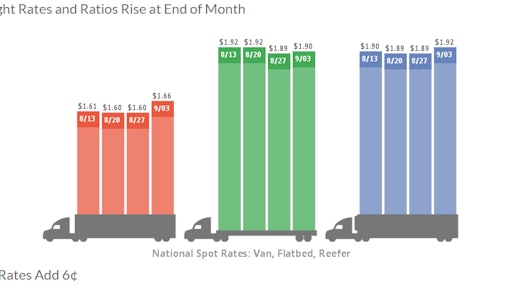 The spot truckload market finished August on the rise as the number of available loads jumped 8.4 percent during the week ending Sept. 3, according to DAT Solutions, which operates the DAT network of load boards.

The national average van rate gained six cents, the reefer rate added three cents, and the flatbed rate picked up a penny after a mostly lackluster month.

Load-to-truck ratios got a healthy boost, an indication that the higher rates may outlast end-of-month and pre-holiday pressure.

Van load posts increased 13 percent and truck posts fell two percent for a 3.2 load-to-truck ratio, the highest ratio since July. The spike in freight volume pushed the national average van rate to $1.66/mile, a 6-cent increase compared to the previous week.

In the Midwest, a four percent increase in freight volume sparked an 8-cent-per-mile jump to $1.99/mile on outbound lanes from Chicago. Rates out of Columbus averaged $1.90/mile, up six cents.

Van volumes and rates were strong in the Southeast: Charlotte gained 6 cents to $1.94/mile, Atlanta was up 4 cents to $1.87/mile, and Memphis added 4 cents to $1.86/mile.

Other top-paying markets by region:

-- West: Los Angeles, $2.02/mile (up 2 cents)
-- South Central: Houston, $1.50/mile (up 3 cents)
-- Northeast: Allentown, Pa., $2.09/mile (up 10 cents)

The number of reefer load posts increased 11 percent last week while capacity declined 2 percent. That boosted the reefer load-to-truck ratio 14 percent to 6.6 loads per truck. The national average reefer rate gained 3 cents to $1.92/mile including a 1-cent increase in the fuel surcharge.

In California, average outbound rates were generally strong including a 5-cent jump in the rate from Los Angeles ($2.46/mile). Idaho potato harvests led to higher volumes out of Twin Falls but outbound rates slipped leading up to the Labor Day weekend.

Several key reefer-freight lanes remained strong:

- Atlanta-Lakeland, Fla.: $2.84/mile, up 6 cents
- Elizabeth, N.J.-Boston: $3.55/mile, down 3 cents
- Chicago outbound: $2.35/mile, up 14¢

The number of flatbed load posts was steady while truck posts increased 4 percent. That pushed the load-to-truck ratio up 4 percent to 10.1 loads per truck. The national average flatbed rate was up a penny (due to the fuel surcharge) at $1.91/mile.

Rates are derived from DAT RateView, which provides real-time reports on prevailing spot market and contract rates, as well as historical rate and capacity trends. All reported rates include fuel surcharges.

Get the latest rate trends at DAT.com/Trendlines or join the conversation on Twitter with @LoadBoards.