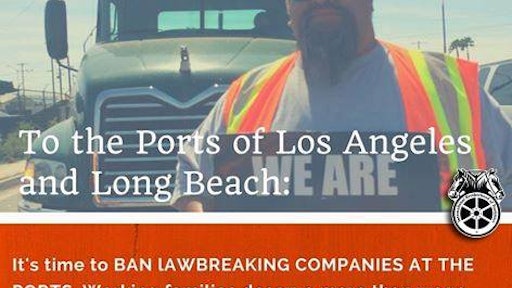 Drayage companies that service the Port of New York and New Jersey are once again squaring off with the Teamsters union in the divisive national debate over whether truck owner-operators are contractors or employees, this time over a bill in the New Jersey legislature, according to Journal Of Commerce.
The bill, which is intended to clarify the issue in New Jersey, got approval from a state assembly committee late last month, but has yet to move in the Senate. It comes as the Teamsters launch a concerted campaign to pressure trucking companies on the issue in California, where a week-long series of job actions involving drayage companies that serve the ports, intermodal rail yards and warehouses began Wednesday.
At issue is whether owner-operators are simply small businesses working by choice as contractors for trucking companies, or whether the drivers are "misclassified" as contractors and are actually employees because the drayage company that hires them controls their workflow and employment conditions to such a great extent.
Designating the owner-operators as employees — aside from allowing them to unionize, which they could not if they are considered independent contractors — would also put companies under pressure to provide benefits to independent contractors that they do not currently offer.
To read more, click here.
Editor's Insight: Transportation employers should treat employees fairly, but truckers who have established their own businesses have made the decision to work as contractors. They can choose to apply for employment with transportation companies and stop working for themselves if they wish.
Transportation employers have to offer good wages and benefits in today's market as the availability of qualified drivers has reached crisis proportions. Companies that fail to do this will not survive.
The cost of complying with rules requiring companies to treat contractors as employees has proven problematic for trucking companies in California, which has strict rules in this area. Food Logistics has reported on the bankruptcy filings of Total Transportation Services Inc. and Pacific 9 Transportation, as well as a class action lawsuit against XPO Logistics Inc. subsidiaries Pacer Cartage Inc., Harbor Rail Transport and PDS Transportation Inc. 6-6-16 By Elliot Maras