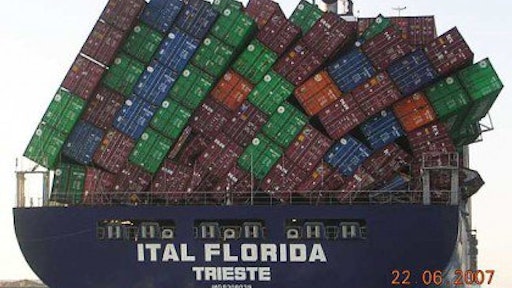 The Agriculture Transportation Coalition (AgTC), on behalf of the largest segment of U.S. exports, has objected to the process by which the International Maritime Commission adopted the recent Safety of Life at Sea (SOLAS) container weight documentation rule and is seeking a Congressional inquiry.  AgTC claims the rule that was implemented without any outreach or "reality check" with the shipping public, specifically with the U.S. exporters who are now being burdened with certifying to the ocean carriers the weight of the carriers' very own containers.
AgTC released a position paper citing the need to avoid similar circumstances in the future. It seeks a Congressional inquiry into the International Maritime Organization process, the means by which the U.S. can be bound, and how this rule was adopted without U.S. exporter or importer notice or input, or consideration of impact on U.S. economy.
On July 1, 2016 an amendment to the International Maritime Organization's SOLAS convention will go into effect requiring all shippers (importers and exporters) to certify and submit the verified gross mass (VGM) – the combined weight of the cargo and the container – to the steamship line and terminal operator in advance of loading the container aboard a vessel.
AgTC believes that unless thoughtfully considered, by individuals with intimate familiarity with the export supply chain process, this rule will create major turmoil at the marine terminals and a very significant impediment to U.S. exports. "This rule was never submitted to Congress, no committee or subcommittee of Congress ever reviewed it. It was not reviewed or approved by a Federal agency, nor published in the Federal Register. There has been no input from the shipping community."
To read more, click here.
Editors Insight: Feedback to the SOLAS container weight documentation rule indicates the rule was not very well thought out and in need of change. This is an issue that impacts food importers and exporters.
Gary Ferulli, president of North America for U.K.-based Unicorn Logistics and a 43-year supply chain veteran, writes in Journal of Commerce that the mandate will be problematic and compliance will be costly for shippers. Ferulli acknowledges that damage resulting from overweight containers is a problem that needs fixing. He points out, however, that those shippers not in compliance will still be able to issue false certifications.
The Agriculture Transportation Coalition has proposed six options for governing agencies to consider addressing overweight container issues. The food industry needs to engage federal lawmakers to come up with a better solution than what the International Maritime Commission has adopted. Otherwise, there will be serious compliance issues for food shippers that will impact the global food supply chain. 2-11-16 By Elliot Maras