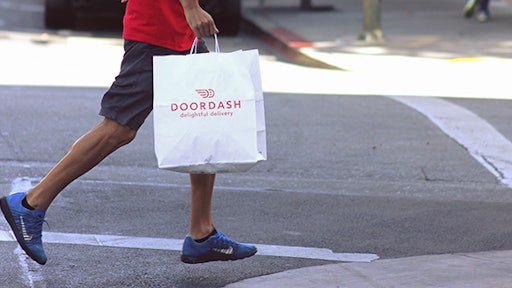 In-N-Out has sued Palo Alto, Calif.-based food delivery service DoorDash, which makes money by delivering meals from restaurants and fast-food joints and charging a delivery fee, according to The San Francisco Business Times.
In the suit, filed Nov. 6 in the U.S. District Court for the Central District of California, the fast-food company alleges that DoorDash is infringing on In-N-Out's trademark. In the lawsuit, In-N-Out accuses the startup of unfair competition, seeking a permanent injunction to get DoorDash to stop delivering its food.
"Despite the fact that (DoorDash) is in no way affiliated with (In-N-Out), (DoorDash) has advertised, and continues to advertise, that it delivers food from (In-N-Out's) restaurants," In-N-Out said in the court documents. It said also that DoorDash has used a "mock In-N-Out logo" without permission, which confuses customers about DoorDash's "authority" to deliver In-N-Out's food.
The fast-food chain, which serves mostly burgers and fries, said in the complaint that it is concerned about how DoorDash might deliver and present its products, noting that In-N-Out has no control over how much time it takes DoorDash drivers to deliver the meals, the temperature of food during delivery or the overall food handling and safety practices.
To read more, click HERE.
Editors Insight: It was only a matter of time before such a legal action occurred against a third-party food delivery company. Technology is changing the supply chain faster than food companies can ensure quality standards and safety.
Technology is providing new efficiencies on several fronts in the food supply chain. Due to the expertise required, food retailers and foodservice operators increasingly need to rely on outside specialists for logistics. In the case of this burger chain, the company did not authorize DoorDash to handle deliveries. According to one report, In-N-Out Burger claims DoorDash delivery vehicles do not comply with state food handling licenses and safety procedures.
E-commerce is the biggest force for change in the food industry. Food supply chain service companies need to be up to speed on safety and quality requirements in addition to rapidly changing technology. 11-12-15 By Elliot Maras