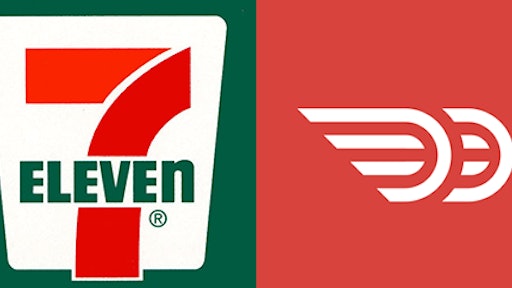 7‑Eleven, Inc. and DoorDash announced a partnership to provide on-demand delivery from participating 7‑Eleven stores in five major metropolitan markets across the U.S. Customers in New York, Los Angeles and Chicago can order products from their local 7‑Eleven stores starting today with delivery service following in Washington, D.C., and Boston in the coming months.
Today's announcement marks DoorDash's first partnership outside of restaurant delivery, bringing DoorDash one step closer toward reaching its goal of providing on-demand delivery across all types of local businesses.
The strategic relationship between the two companies will include in-store marketing, local promotions and the availability of "Convenience Packs" or groups of products that make purchasing common items from 7‑Eleven stores more convenient. 7‑Eleven's expanded product assortment from fresh foods and beverages to household goods offer customers a one-stop shopping experience, which is a compelling value proposition to busy, on-the-go consumers. For a limited period, the delivery service fee is $2.99.
"By working with DoorDash, we can bring on-demand delivery to more people and more places," said Raja Doddala, 7‑Eleven's vice president of innovation and omnichannel strategy. "This partnership between the world's largest convenience store chain and a leading on-demand delivery start-up can redefine convenience. DoorDash's technology, data analytics and commitment to the customer experience impresses us and makes them a great match for 7‑Eleven's omnichannel initiatives."
"We're proud to launch our first expansion beyond restaurants with 7‑Eleven," said Tony Xu, CEO and co-founder of DoorDash. "7‑Eleven has shown a true commitment to learning the ins and outs of delivery and even went dashing with our team to see DoorDash in action. We've worked closely throughout the testing process to ensure that their products -- from convenience goods to fresh and prepared foods -- are well suited for delivery."
To get started with 7‑Eleven delivery, download the DoorDash app for iOS or Android app, or visit www.doordash.com.