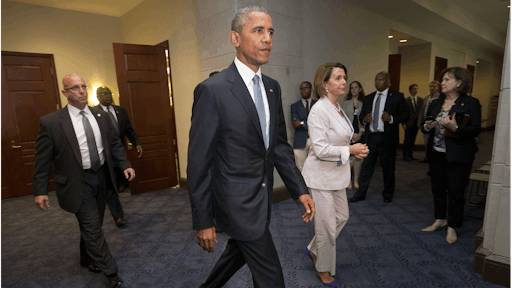 President Barack Obama's long-pursued trade agenda took a giant step toward becoming law on Tuesday, and opponents grudgingly conceded they now must fight on less-favorable terrain, according to the Associated Press.
A key Senate vote greatly brightened Obama's hopes for a 12-nation Pacific-rim trade agreement, a keystone of his effort to expand U.S. influence in Asia. The trade pact would be a high point in a foreign policy that has otherwise been consumed by crisis management, and would give Obama a rare legislative achievement in the Republican-controlled Congress.
The Senate voted 60-37 to advance his bid for "fast track" negotiating authority. That was the minimum number of votes needed on the procedural question. But final passage, expected no later than Wednesday, needs only a simple majority, which would let Obama sign fast track into law.
The president also wants to continue a retraining program for workers displaced by international trade. House and Senate support appears adequate, but even if that measure stumbles, the long-coveted fast track bill will be on Obama's desk.
"This is a very important day for our country," Senate Majority Leader Mitch McConnell, R-Ky., said. In the strange-bedfellows politics of trade, he was among the Republican congressional leaders vital in pushing the agenda forward, with only modest help from Democrats.
The big majority of Democrats, especially in the House, oppose free-trade agreements, as do the labor unions that play important roles in Democratic primaries. They say free-trade agreements ship U.S. jobs overseas.
To read more, click HERE.