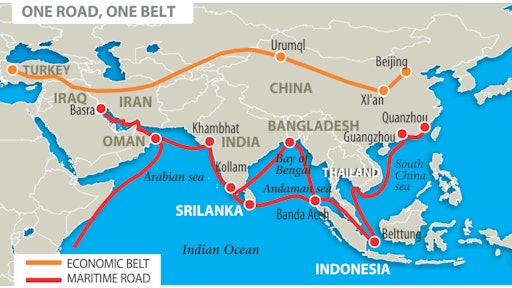 China's President Xi Jinping said he hoped its annual trade with the countries involved in Beijing's plan to create a modern Silk Road would surpass $2.5 trillion in a decade, according to The Maritime Executive.
Xi also pledged to protect the interests of foreign companies in China amid investors' rising concerns that Beijing is enacting policies that could hurt their businesses.
Under the so-called "One Belt, One Road" initiative, China aims to create a modern Silk Road Economic Belt and a 21st Century Maritime Silk Road to boost trade and extend its global influence. Commerce Minister Gao Hucheng said previously that more than 50 countries had shown interest in the initiative.
Projects under the plan include a network of railways, highways, oil and gas pipelines, power grids, Internet networks, maritime and other infrastructure links across Central, West and South Asia to as far as Greece, Russia and Oman, increasing China's connections to Europe and Africa.
Speaking at the sidelines of a high-level event in the southern city of Boao on Sunday, Xi said the scheme would stimulate trade and investment between China and countries along the route, according to a statement on the foreign ministry's website.
To read more, click HERE.