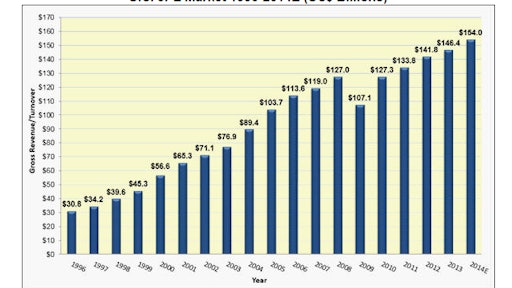 The U.S. 3PL market grew 7.4 percent to $157.2 billion in 2014, according to Armstrong & Associates Inc., the Madison, Wis.-based logistics research firm. Two U.S. 3PL market segments experienced double digit growth. Both were domestic segments reflecting U.S. economic growth. Non-asset based domestic transportation management gross revenues grew 15.4 percent, while net revenues grew 20.5 percent.
Dedicated contract carriage gross and net revenues both increased by 10.4 percent. Domestic transportation management is the modern and sophisticated offspring of freight brokerage. Domestic contract carriage provides dedicated truck capacity in a market often dominated by tractor shortages which are driven by a lack of drivers. Domestic contract carriage is a primary protection mechanism for shippers when demand outpaces supply.
Big deals have dominated the 3PL market. In January of 2014, FedEx purchased GENCO, a high quality, value-added warehousing and distribution third-party logistics provider, for $2 billion. In August, Norbert Dentressangle expanded to the U.S. by purchasing Jacobson Companies for $750 million in cash. Then, in the spring of 2015, Norbert Dentressangle sold itself to voracious acquirer XPO Logistics for $3.5 billion. Along with the U.S. and Europe, Asia has seen significant large deal volume making 2015 potentially the largest year for $100 million plus deals.
These acquisitions are reflective of a 3PL sector that is now dominated by around 50 companies based in post-industrial countries. These third-party logistics providers have scale based on geographical coverage, IT and processes that create threshold levels which bar smaller rivals from overtaking them by organic growth alone.
For information, visit http://www.3plogistics.com.