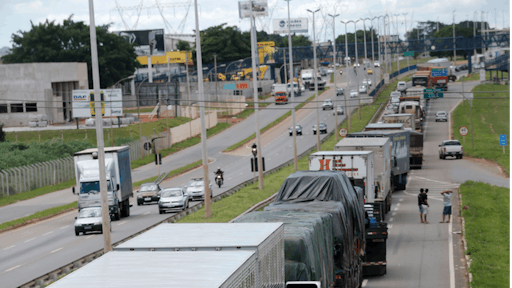 A growing protest by Brazilian truck drivers against high fuel prices entered a seventh day on Tuesday, interrupting supplies of diesel and food across several commodity-rich states at the start of harvest season, according to Reuters.
The protests are part of a reaction to the return of fuel taxes, one of several unpopular measures that President Dilma Rousseff is counting on to shore up government fiscal accounts.
The spontaneous spread of the demonstrations without organized help from unions has complicated state and federal government efforts to negotiate with the protesters. So far, isolated attempts by the government have not been fruitful in meeting their demands.
"There is no sign the blockage in Sorriso (Mato Grosso) and the other towns in the state is ending," said a representative for Rota do Oeste, the consortium that operates the BR 163 highway on Tuesday. "Trucks are not getting through."
Truckers started restricting the flow of goods along BR 163, the main highway running through top soybean-producing state Mato Grosso, on Feb. 18 but the demonstrations quickly spread and spilled into as many as six states by Monday, including Minas Gerais, Parana, Goias and Rio Grande do Sul.
To read more, click HERE.