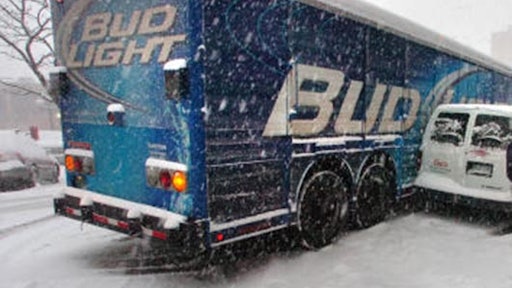 Restaurants in Chicago that are dependent on daily deliveries are feeling the pinch from the weekend blizzard as tractor trailers packed with fresh food try to pull in and out of narrow alley ways piled with snow, according to DNAInfoChicago, an online news service.
Jessica Brumleve, executive chef of MAX's Wine Dive, 1482 N. Milwaukee Ave., said that restaurant had missed at least one delivery on Monday morning.
"We have not seen our linen guy and are looking out in the alley. We know it is difficult to manage getting through all those snowdrifts. We are hoping side streets will be taken care of by tomorrow so our delivery trucks won't get struck and can get in and out easily," Brumleve said.
Brumleve said she feels bad for the drivers.
"These are products we need for the restaurant but it has to be dangerous and incredibly stressful for our vendors to have to deal with this. They are driving around, getting stuck, being delayed," she said.
Mary West, a driver services agent with Coyote Logistics in an Alpharetta, Ga., call center, said that she is receiving a lot of calls from Chicago.
"I have heard every truck driver saying they are driving on ice, sleet, snow. Most drivers are late to their deliveries because of road safety. It's really bad," West said.
West said she has heard of no major accidents involving drivers who are part of Coyote Logistics.
Belia Portillo, a spokeswoman for Ald. Joe Moreno's (1st) office, said that the office has been fielding several calls and online requests from constituents who need snow removal on their blocks.
"We just heard from the ward superintendent and want to get the word out that the city is prioritizing around streets that have police and fire departments and schools, and then people with disabilities and elderly," Portillo said.
To read more, click HERE.