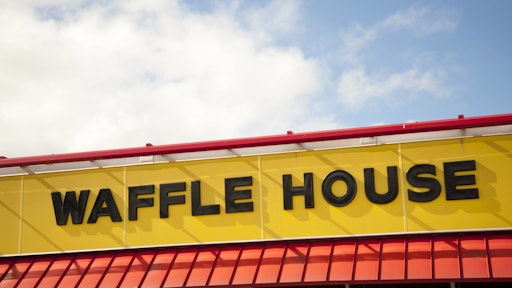 Waffle House announced a partnership with Roadie, a startup that aims to become the "Uber of package delivery," according to The Verge, an online news site covering technology and culture. The app, which launched last month, lets travelers earn money by delivering packages to locations along their routes.
Users can send packages from within 10 states across the southeast U.S., and most packages are delivered door-to-door. But the company is looking to create a network of meeting places for users to hand off deliveries, which is where Waffle House comes in. Users will be able to meet and execute deliveries at the company's 1,750 diners across the U.S., which are open 24 hours a day. Waffle House will also offer a free waffle and drink to drivers making deliveries at their eateries.
"We're just bacon and eggs over here," Walt Ehmer, Waffle House's CEO, told the Wall Street Journal, which first reported the partnership. "I've been amazed with the explosion of Uber and Airbnb and other technology that kind of enables people to get together and conduct business together."
Roadie takes direct aim at major delivery services like FedEx and UPS, though it's still in its nascent phase. According to the Wall Street Journal, the app currently has around 7,500 downloads, and around 50 items have been delivered so far. Drivers keep 80 percent of the delivery fee, which currently ranges from $12 to $200, and must pay $1 to cover insurance. Depending on the item, Roadie may be more expensive than FedEx or UPS, but the company says it will be most cost-effective for transporting large packages.
To read more, click HERE.