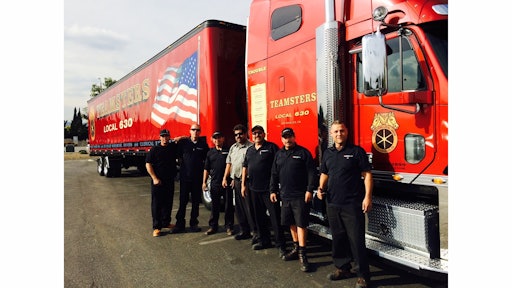 Food distribution drivers at Roma of Southern California, a Performance Food company, have voted overwhelmingly, 68-15, in favor of joining Teamsters Local 630 in Los Angeles. Of the 84 drivers in the bargaining unit, 83 participated in the Nov. 20 election.
The predominantly Latino group of drivers haul goods for the division of Performance Food Group (PFG), one of the largest private companies in the U.S. with almost $14 billion in annual revenue and 11,000 employees. The drivers are seeking a Teamster contract that addresses their issues at work, including disrespect, long hours, heavy workloads and a lack of job security.
"This is a significant victory for industry standards on the West Coast and for the drivers at Roma Food who stood together despite a strong company-led campaign against the union," said Ernesto Lopez, Secretary-Treasurer of Teamsters Local 630. "We are proud of these drivers for their courage and we look forward to negotiating a contract that raises them to the standards other Teamsters enjoy in the industry."
PFG is a major competitor of Sysco and US Foods, where Teamster labor contracts set some of the highest standards in the warehouse industry. The union victory in Industry last week is the first organizing win at the company on the West Coast; other Teamster locals have contracts at several PFG terminals on the East Coast.
The company brought in union-avoidance consultants before the election to pressure drivers into voting against the union. But a strong committee of drivers held their co-workers together during the vote.
"We felt disrespected by the company, but now we feel vindicated," said Carlos Escobar, a driver who was active in the organizing campaign. "Now that we are Teamsters we can get the respect we deserve as workers and as human beings."
"PFG has been a threat to the high standards set by the Teamsters at its competitors, including Sysco and US Foods, where many workers enjoy the security of a union contract, higher wages and better benefits. This victory means more security for our members throughout the industry," Lopez said.