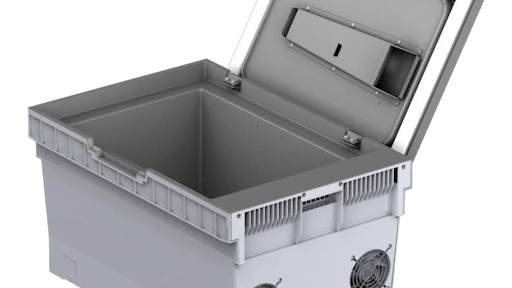 Phononic
Phononic launched the Intelligent Actively-Cooled Tote, which makes freshness possible in the last-mile leg of grocery retail.
"Across industries, our solid-state solutions are delivering cold chain performance and sustainability that compressor-based systems or other thermoelectric approaches simply cannot match," says Dana Krug, Phononic SVP, cold chain fulfillment. "Our Phononic tote technology and platform for grocery retail not only provides for the highest quality of perishable foods, [but] it also avoids the use of toxic, high GWP-refrigerants that warm the earth. That kind of positive environmental impact will be critical for climate control as this sector scales globally, and we know that our customers are focused on it."
From BusinessWire:
Phononic's

Intelligent Actively-Cooled Tote

will make unmatched flexibility and freshness possible for leading grocers and their customers, while also helping retailers meet critical environmental, social and governance (ESG) mandates.

The totes use wireless contact charging and are WiFi and Internet of Things (IoT)-ready, offering real-time insight into cold chain automation processes.

One solution solves multiple use cases, including storage; pick-and-pack (manual, semi-automated, automated); curbside pickup; delivery and unassisted delivery; and hub and spoke.

Kick off with one container or grow to 3,000-plus in a site without cooling rooms, freezer warehouses or tri-temp trucks.