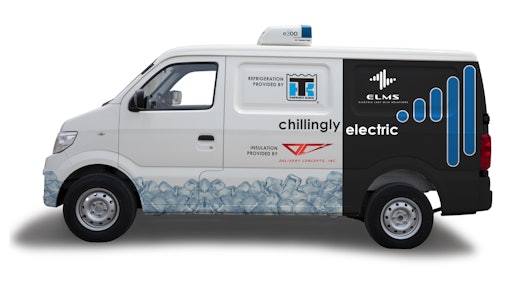 Electric Last Mile, Inc. (ELMS)
Electric Last Mile, Inc. (ELMS) and Thermo King announced plans to build a first-of-its-kind, all-electric refrigerated delivery vehicle. As part of the collaboration, Thermo King will integrate its E-200 all-electric refrigeration unit into the ELMS' Urban Delivery electric vehicle (EV).
"Together with Thermo King, a global leader in temperature control technologies for transport, we have the opportunity to expand the sustainability of the cold chain by electrifying the last-mile delivery of fresh food and other perishable goods," says ELMS co-founder and CEO, James Taylor. "Our goal is to redefine all verticals of last-mile delivery and the Urban Delivery EV prototype brings us closer to that transformation."
"Electrification is the force behind Thermo King's strategy to deliver smart, sustainable temperature-control solutions that will strengthen the cold chain and add value to our customers' operations," says Chris Tanaka, VP of product management, Thermo King Americas. "Partnering with a technology innovator such as ELMS advances our goal to meet the rapidly growing demand for home delivery in a more efficient and sustainable way."
From Yahoo! Finance:
ELMS and

Thermo King

expect to pilot the Urban Delivery prototype with refrigerated transport customers.