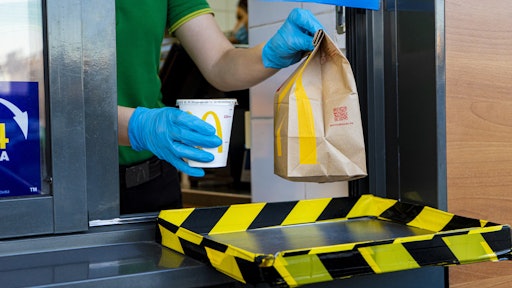 gargantiopa - stock.adobe.com
A new report by ResearchAndMarkets finds that the global online food delivery services market will grow from $115.07 billion in 2020 to $126.91 billion in 2021 at a CAGR of 10.3%. Major players in the market are Doordash, Deliveroo, Uber Eats, Domino's, GrubHub and more.
Growth in food delivery is largely driven by companies resuming operations and adapting to the "new normal" that the Coronavirus disease (COVID-19) pandemic has created. Previous restrictive containment measures and closure of commercial activities resulted in operational challenges for a majority of 2020.
According to the report, "Online Food delivery Services Global Market Report 2021: COVID-19 Growth and Change to 2030," the cost of supply chain and logistics is a key restraint for the online food delivery market as costs for order fulfillment, deliver, adjusting business resources to market demand and last-mile connectivity vary. Retailers could potentially lose up to 26% of their profits if they fail to adjust their supply chains to prevent spoilage.
The market is expected to reach $192.16 billion in 2025 at a CAGR of 11%.
Smartphone users are the primary online shoppers for the F&B industry and an increase in the number of smartphone users reflects a potential increase in online shopping for food and beverages.
Upgradation of the distribution network to a more decentralized system, Distribution 4.0, is trending in the food delivery services market. In Distribution 4.0, suppliers partner with multiple players for the best market coverage between urban and rural markets, focusing their efforts on marketing, branding, and in-store merchandising to create best-in-class shopper experience.