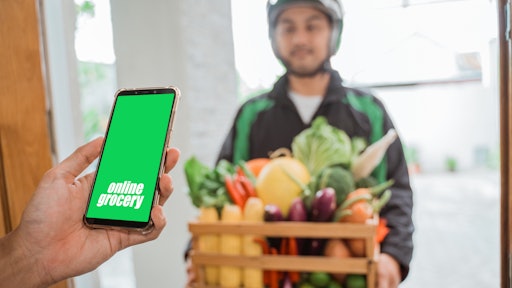 Odua Images - stock.adobe.com
We are in the "need it now" era when customers have come to expect delivery same day or even within hours. Consumer services of same-day delivery and door-to-door food delivery have created an expectation that you can get what you want almost immediately. To meet changing consumer expectations, shippers must find new ways to apply technology to expedite last-mile delivery.
The marketplace is changing. The COVID-19 pandemic created a spike in demand for faster consumer delivery. In 2020, the first year of the pandemic, e-commerce sales increased by $244.2 billion or 43%. As the pressure from the pandemic eases, consumers continue to demand faster service, and food retailers and restaurants that can accommodate the need-it-now mentality are thriving.
However, the food industry continues to suffer from a chronic problem in last-mile shipping. There is an ongoing driver shortage, and experts predict that we still need 70,000 drivers in 2023. There also is an ongoing challenge for food suppliers to expedite deliveries to meet consumer demand. Delivery from the warehouse continues to be a chokepoint. Scaling fleets quickly to meet demand can be complex and often results in businesses struggling to meet customer needs or incurring higher delivery costs.
Technology can speed supplier and carrier interaction to expedite local deliveries. New solutions are emerging to connect food suppliers with local carriers faster and more efficiently while keeping costs low, while creating new job opportunities for drivers. Expedited shipping has been an ongoing goal but the ongoing challenge is making fast delivery cost-effective.
The problem with regional carriers
Last-mile delivery continues to be slow due to a fractured delivery infrastructure. Lack of a central clearing house to match drivers and loads for last-mile delivery leaves food suppliers scrambling, looking for carriers, then dealing with the paperwork to finalize the terms of delivery.
Lack of a centralized infrastructure means suppliers and shippers must continually adapt to new protocols and procedures. Different processes and software programs for placing shipment orders, load matching, invoicing, and other transactions make shipping needlessly complex, resulting in lost time and opportunities. Some of these business processes are still done on paper which slows things down even further.
Too often, suppliers need to must engage multiple regional and independent carriers to handle local deliveries. This not only means assembling a mix or carriers but also dealing with billing different parties, managing different allocations, and using different modes of communications. Cobbling together a network of independent regional carriers also makes it hard to scale capacity. Adding more carriers to the mix just adds more complexity.
One solution is to own and operate your own trucking fleet. Managing and operating your own fleet requires you to run a business within your business, and not every business wants to become Amazon.
A better approach is to eliminate the problem by adopting a centralized system with a common network of truckers to manage shipments. Creating one infrastructure to match suppliers and carriers simplifies scheduling shipments and makes booking and billing easier with a standardized procedure. What the industry needs is a single resource that allows shippers and carriers to seamlessly collaborate on last-mile deliveries.
Automating last-mile deliveries
Suppliers and local carriers need to apply technology to improve communications, centralize shipping and expedite last-mile delivery. The model is already being proven nationwide as carriers, brokers, and shippers are increasingly using software to make the supply chain more efficient.
Consider the evolution of freight matching. Thirty percent of freight is moved via contracts negotiated on the spot market. Digital brokers are matching suppliers to carriers with little or no human interaction. Using technology to track carrier capacity, bookers can see how many drivers are looking for loads, and how many trucks have capacity in specific markets. The result is faster, more efficient delivery and fewer deadhead runs.
The same model can be applied to last-mile delivery. Having a common platform in the cloud makes it easier for suppliers and carriers to automate transactions. Just as Uber and Lyft make it easy to call up a local driver, using a centralized system can do the same for last-mile delivery, matching suppliers and delivery drivers.
Emerging companies are offering a centralized solution with a simple dashboard that allows shippers to do load matching, real-time tracking, and billing. Shippers can connect with nearby carriers on freight marketplaces faster than working with brokers and enable same-day deliveries at lower cost by eliminating the middleman. Real-time tracking also gives shippers peace of mind and expedites delivery, since recipients can prepare for receipt of goods. The system can optimize the route as well, using GPS, traffic data and mapping to show the fastest route, making it easier to track delivery time and mileage.
For a centralized shipping system to work it needs to be available to everyone in the value chain. Rather than dealing with proprietary software that locks partners out of the shipping network, last-mile logistics companies are providing software developer kits (SDKs) built on open web programming standards such as RESTful API and JSON. Integrating with existing software makes it easier to quote, purchase, and track shipments from a central source. Shipping data also can be shared with other systems to expedite business processes such as billing.
Looking ahead to a new era of control over trucking and freight capabilities
Using cloud technology to centralize communications gives shippers and carriers more control over deliveries as well as greater efficiency thanks to greater transparency. The trucking industry has always had issues with visibility. Using a cloud-based management console, shippers and carriers can collaborate in real time, including finalizing all the necessary paperwork with electronic signatures. Shippers receive notifications immediately and can view status changes in the activity log. Real-time tracking enhances visibility so customers know where their freight is and when it will arrive. Faster on-demand booking and instant, automated freight matching to nearby carriers eliminates slow manual tasks still used by many brokers. Automation enables higher on-time performance. And systems integration makes it easy to share data between the shipping software console and other business applications.
The ability to centralize freight matching and shipping orders electronically enables faster services, including same-day delivery. Harnessing cloud technology to streamline shipping and reliability for last-mile delivery is the advantage businesses need to grow in the need-it-now economy.