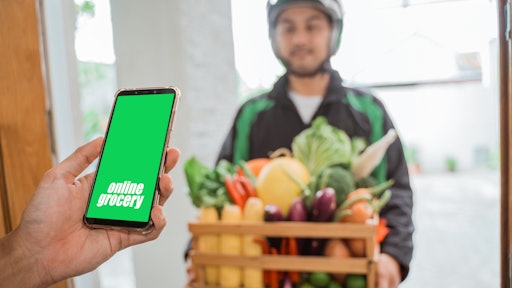 AdobeStock_346469883
You open your refrigerator and can tell -- it's time to launch an app on your phone and start an order. A few minutes later, your grocery shopping is done for the week. This type of buyer behavior has become the norm in response to the global pandemic. Prior to the onset of the Coronavirus disease (COVID-19), delivery of food and supplies direct to consumer was considered a luxury. During quarantine initiatives and through to present day, delivery of critical commodities has gone from an extravagance to a necessity. It is safer and more convenient for many to get essential items and groceries, in particular, delivered to their front door without risking their safety.
With vaccine distribution ramping up, can delivery maintain its place as the new norm? The immediate implications of the COVID-19 variants unfolding has caused the demand for such deliveries to persist. Many industry experts claim this change in how consumers shop is here to stay, even once the world fully opens back up.
For businesses, it was not so easy to immediately transition complex food logistics environments into a simple "click, ship and deliver" offering. Initially, this trend did strain many supply chains and service organizations that had to pivot to meet the increasing unexpected demand of those stuck indoors by the pandemic. As delivery models have matured throughout this extended world crisis, the question now becomes how companies can adapt to varying customer preferences for sometimes in-store, other times curbside, and increasingly, wanting (fast) delivery. This "flexibility" movement presents businesses with an opportunity to meet and exceed customer needs into the next decade.
Grocery delivery has gone technical
It is crucial to keep delivery routes optimized as time is of the essence when dealing with perishables and any temperature-controlled goods. Ensuring that the climate-controlled supplies arrive efficiently to best utilize human labor, technology and packaging is critical to the success of these services. Advanced artificial intelligence (AI) technologies help optimize delivery routes, remove guesswork, minimize time to consumer and maximize results for companies leading these services.
How cold delivery services continue to evolve
The world of delivery services bringing fresh, cold and heated food to your home, dorm or office continues to evolve. Companies are now testing fully automated robotic delivery options, including drones, to make this process as safe and efficient as possible. Can these delivery methods actually cut down on last-mile delivery times and costs and expand options such as ice and heating units for even fresher food to your door in the blink of an eye? Only time will tell, but some campuses are already testing these delivery options. And, every day, more and more technology companies are raising capital to expand automated delivery option testing.
Keep the hot side hot and the cool side cool with customizable robotic options
Many of the early robotic options were small, single-unit prototypes that could only navigate sidewalks. These mobile delivery units have customizable internal spaces that can carry fruit, fully prepared meals or fresh pizzas by simply adjusting the compartments to the perfect temperature for whatever the robotic unit is carrying. Thus, cold food is delivered to your door alongside a container with hot, freshly made pizzas in one vehicle, and no heavy packaging waste or additional cooling materials are needed.
Companies must innovate to keep, surprise and win new customers
All eyes will be on delivery companies for food and other goods as they evolve to meet expanded customer needs. Whether it is touchless delivery during quarantine or simply allowing more delivery services of mixed goods, technology and innovation are driving the evolution in this overarching supply chain methodology. It remains to be seen how many companies will rise to meet the at-home delivery demands and how they will continue to build on the baseline of today's companies. Growing demand for these services seems inevitable. This demand will propel innovations, companies and progress in the food delivery market segment into new service frontiers for the future.