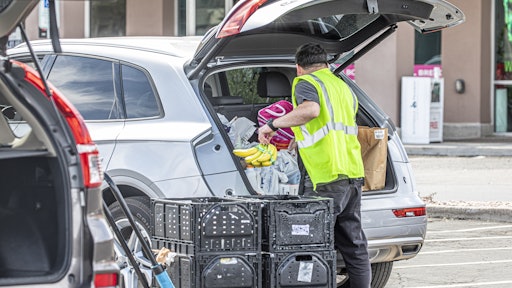 stock.adobe.com
The Coronavirus disease (COVID-19) pandemic has shifted the way that most consumers shop for their goods, and these recent changes to online shopping are here to stay. Since the pandemic first began in March 2020, e-commerce has seen a $183 billion increase in sales as more consumers went online to purchase goods, according to a report by Adobe. In just a 12-month period from March 2020 to February 2021, $844 was spent online.
Despite grocery stores putting several safety measures in place, consumers are still afraid of catching COVID-19 while out shopping. A survey by Charleston│Orwig found that nearly 75% of consumers have said that they are concerned about catching the virus in stores. However, the shopping process is still troublesome because stock-outs remain, shipping delays are becoming more common and there is still a lack of visibility when ordering online.
However, grocery delivery and curbside pick up are proving to be popular alternatives to in-store shopping as the pandemic continues, as 50% of respondents saying that they have used one or more options, according to Charleston|Orwig.
"The good news is that food retailers have an opportunity to ease frustrations and, in the process, create a stronger connection with their customers," Mark Gale, CEO of Charleston|Orwig said in a press release. "Enhanced communication is what customers want. Digital channels are perfect vehicles."
Nearly 29% of all U.S. households shop online for groceries monthly, according to a survey by Brick Meets Click. The 2020 number increased 133% compared to 2019, with more shoppers spending even more per order. In august 2020, spending per order reached $95 and shoppers placed 1.6 orders per month, according to the survey.
"The rise in repeat purchases and spending means grocers are successfully acquiring new online shoppers, and equally as important, converting existing digitally engaged customers," Sylvain Perrier, president and CEO, Mercatus said in a press release. "Even with diminished concern about COVID-19, grocery shoppers are realizing the benefits of a streamlined and frictionless online shopping experience. Going forward, it's critical that grocery executives focus their teams on rewarding online shoppers by delivering a differentiated e-commerce experience that caters to consumers' high expectations."
But, online grocery shopping doesn't have to be convoluted. See below to see what options some of the nation's top grocery stores offer:
Walmart offers a plethora of options to get your groceries, always counting on in-store pricing, according to its website. You can choose between getting them delivered or curbside pickup by reserving a time when you place your order. Meanwhile, you can use the company's app to view your order's progress or see when the delivery is en route. If your items are out-of-stock, Walmart offers alternatives or substitutions based on your preference. In addition, refunds can also be made through their app. At the time of this publication, there is no fee associated with delivery or pickup.
Target offers same- day shipping through Shipt, buy-online-pick-up-in-store (BOPIS) and curbside pickup. Shoppers can place their orders online through the store's website or app and choosing eligible time slots. Consumers that choose BOPIS or curbside pick-up will receive a notification when their order is ready and they send a message back saying when they are on their way to collect their goods. Curbside-pick up also allows for the need to social distance as no contact is necessary. However, to have your groceries delivered directly to your home, you will need to have a Shipt membership or pay $9.99 in delivery fees.
Kroger also offers curbside pick-up and delivery. Unlike it's competitors, Kroger has a minimum shopping amount of $35 in order to qualify for its services, according to its website. Dry goods and bulk shipping can be delivered for free as long as it meets the $35 threshold. Meanwhile, 1-hour delivery is also available for $9.95, regardless of the price.
Unlike it's counterparts, Trader Joes doesn't offer delivery or curbside-pickup, much to the contention of its customers. In the company's podcast, marketing director Tara Miller says, "Customers are asking if given current circumstances, we're planning on offering delivery or curbside pickup. We understand the impulse and we know that some other retailers are offering these services. We also know those offerings don't always translate into positive results."
However, the chain still offers grocery delivery through third-party services like Postmates and DoorDash.
Whole Foods shook the entire grocery industry when Amazon purchased the company back in 2017. As grocers prepared for the Amazon Effect to take place, the organic chain was adapting to its new business methods. Amazon Prime members are the only shoppers that can take advantage of Whole Foods' online ordering system by logging on to amazon.com/wholefoods to place their order.