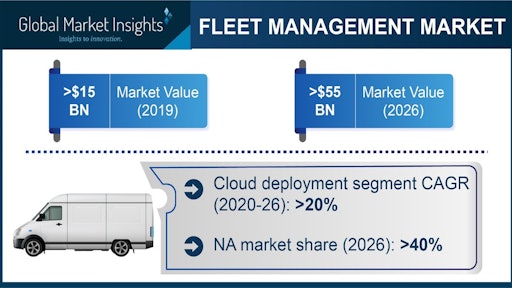 Global Market Insights
According to a recent study from market research firm Global Market Insights, the fleet management market is set to grow from its current market value of more than $15 billion to over $55 billion by 2026, gaining remarkable traction over the 2020 to 2026 period.
The fleet management market is anticipated to witness tremendous growth in the coming years due to the rising need to reduce asset downtimes, growing infrastructure construction, expanding logistics industry, and favorable government regulations. Fleet management is an administrative approach that enables enterprises to organize and coordinate work vehicles. With an objective to reduce costs, provide compliance with government rules, and enhance efficiency, fleet management is generally used for tracking of vehicles. Apart from this, it also includes recording and following driver behavior and conducting mechanical diagnostics.
The best practices of fleet management include usage of software solutions and technology to aid in reducing costs and risk, scheduling of preventive maintenance for reducing downtime, ensuring higher productivity, and enforcing driver safety.
Additionally, fleet management companies commonly use vehicle fleet management software or telematic to help in decreasing operational costs and to increase fleet efficiency. It is mostly used by repair & service industry, for oil & gas delivery, couriers, utilities businesses to enable real-time tracking, confirming safety, and ensuring responsible use of vehicle. Apart from others, fleet management technology is also used by boating technology.
The fleet management market is divided into different segments in terms of deployment model, solution, end-use, and regional landscape.
In terms of end-use, the overall market is bifurcated into utility, manufacturing, construction, and transportation. Among these, manufacturing end-use segment will witness a CAGR of more than 22% over the forecast time period. This growth is ascribed to the need to automate fleet operations and reduce asset downtimes.
From a regional frame of reference, Latin America fleet management market will witness a CAGR of more than 20% through the forthcoming timeframe as the fleet industry in the region becomes more focused towards asset safety and in reducing thefts.
Middle East & Africa fleet management market is likely to witness substantial growth over the coming year. In 2019, the region accounted for a market share of nearly 5%, driven by growing infrastructure construction and logistics industry along with increasing sales of trucks, buses, and vans.
Several regional companies are increasingly adopting advanced technologies such as IoT, asset tracking, RFID among others, in order to enhance the performance of their fleets. Citing an instance, NFT, a renowned tower crane specialist based in Abu Dhabi, reportedly announced a new deal with its UAE local representative and a UK-based company in order to track its large fleet of tower cranes by utilizing RFID solutions. The main aim is to reduce human error and wastage, ensuring real time decision making, strategic planning and improving inventory managing.