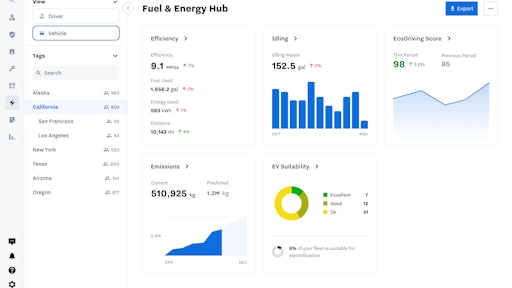 Samsara
Samsara Inc. introduced its Sustainable Fleet Management solution, designed to empower customers with additional data-driven insights so they can reduce emissions, jumpstart electrification and meet their sustainability goals.
"To provide an accurate assessment of their ESG momentum, organizations need a simple way to analyze data points across their entire operations. We're hearing this more often from our customers as they look for technology partners to track and report progress toward these goals," says Jeff Hausman, chief product officer at Samsara. "With this new solution, we're able to provide our customers with fuel economy, vehicle utilization, and emissions insights that will help them better understand their opportunity for improvement and take action."
From BusinessWire:
New and enhanced features announced today include:
● Fuel & Energy Hub acts as the one-stop shop for mixed fuel fleets, including internal combustion engine (ICE), EV and hybrid vehicles to ensure their drivers and assets perform optimally to support sustainability goals. With this new dashboard, operations leaders can visualize an entire fleet's performance while gathering actionable insights into fuel economy, cost, and consumption to direct change with confidence and precision. Fuel & Energy Hub is now available in open beta.
● Sustainability Report allows customers to visualize their fleet emissions and monitor output across sites and vehicles to pinpoint improvement areas. This report also provides insight into current and predicted fleet emissions over time, so customers can set more accurate targets and track progress against their sustainability goals. Sustainability Report is now available in open beta.
● Charge Control combats driver range anxiety by managing real-time EV charging at scale and easily identifying charging issues. Now, customers can create custom charging profiles by groups or by individual vehicles and receive notifications for irregularities. Charge Control will be available in open beta this summer.
● EV Suitability Report provides a tailored list of ICE vehicles within their fleet that are most suitable for EV transition. As an evolution of Samsara's existing Fleet Electrification Report, this new report now includes assessment for all vehicle types and allows customers to configure electrification criteria for advanced recommendations. EV Suitability Report is now generally available.