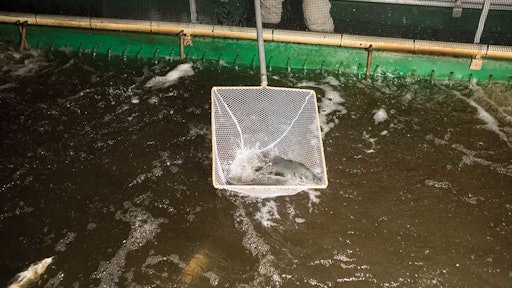 While combines crawl through rows of withered corn as Webster City's farmers hurry to gather their crops before the first freeze sets in, a different sort of harvest has kicked into gear a few miles outside of town.
Their neighbors raise hogs and cattle, sow soybeans, and tend pumpkin patches and orchards now sagging with apples. But five years ago, the Nelsons—a third-generation Iowa farming family—turned to raising fish. Hundreds of thousands of silvery barramundi, to be precise. Part of a hearty species that's roughly the size of coho salmon and has flesh the flavor of red snapper, barramundi easily tolerate many environments and have a flexible diet.
In 2014, a pair of Canadian investors named Keith Driver and Leslie Wulf acquired it, changing the name to VeroBlue Farms. With the Nelsons still in charge of the day-to-day operations, VeroBlue aims to become North America's biggest land-based fish farm and the largest domestic producer of barramundi, raising as much as 10 million pounds every year—more than twice as much as anyone else.
Some scientists and ocean advocates believe we need more fish farms like this one. A 2015 World Wildlife Fund report revealed that half of all marine vertebrates have been wiped out since 1970 because of pollution, climate change and industrial fishing.
That's prompted experts at the U.S. National Oceanic and Atmospheric Administration (NOAA) and the Department of Health and Human Services' Dietary Guidelines Advisory Committee to embrace farmed varieties.
"If responsibly developed and practiced, aquaculture can generate lasting benefits for global food security and economic growth," the director general of the UN Food and Agriculture Organization declared in 2014.
To continue reading, view the original article, here.