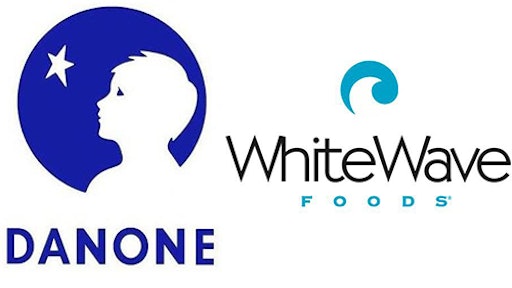 Danone and The WhiteWave Foods Company have entered into a definitive merger agreement under which Danone will acquire WhiteWave for $56.25 per share in an all-cash transaction, representing a total enterprise value of approximately $12.5 billion, including debt and certain other WhiteWave liabilities. The transaction has been unanimously approved by the board of directors of both companies. Its price represents a premium of approximately 24 percent over WhiteWave's 30-day average closing trading price ($45.43).
The transaction is expected to close by the end of the year, subject to the approval of WhiteWave's shareholders, regulatory approvals, and customary conditions.
WhiteWave is a global company which generated $4 billion in sales in 2015 and has a portfolio of large and leading branded platforms in North America and Europe in high-growth, on-trend food and beverage categories which focus on premium organic dairy, non-GMO, plant-based alternatives to milk and yogurt, fresh foods, and coffee creamers.
WhiteWave's business includes highly recognized, category leading brands such as Silk, So Delicious, Vega, Alpro, Provamel, Horizon Organic, Wallaby Organic, Earthbound Farm and International Delight.
Since becoming a public company in 2012, WhiteWave sales have increased at a 19 percent compound annual growth rate through 2015, and WhiteWave has doubled its operating income during this period.
"At Danone, we constantly seek to align our vision of the world, our mission and our businesses: we believe we have a special responsibility, as expressed in our manifesto, to help and support people in adopting healthier and more sustainable eating and drinking practices and constantly evolve our portfolio of brands and products to achieve this objective. To that extent, we found in WhiteWave the perfect alliance as we both believe in a healthier future and are conscious of our power to lead society forward," said Emmanuel Faber, Danone chief executive officer.
"This unique combination positions us better to address tomorrow's consumer trends and represents a great opportunity to step change the ambition of our plan for an Alimentation revolution and to accelerate our path towards strong sustainable and profitable growth by 2020. It will allow us to enhance Danone's growth profile and reinforce our resilience through a broader platform in North America. We are convinced that combining with WhiteWave will create significant value for all of our stakeholders."
Franck Riboud, Danone chairman said: "I believe this acquisition advances Danone's mission and rich history of being at the forefront of emerging consumer trends and commitment to creating economic and social value. The Danone board of directors and strategy committee unanimously approved this transaction. We believe WhiteWave's size, positioning and geographical footprint fit perfectly with Danone's strategy and that it is the right transaction at the right time.
"The Danone board will propose that shareholders approve the appointment of Gregg Engles, WhiteWave chairman and chief executive officer as a member of our board upon completing the transaction as we pursue our ambitious vision together."