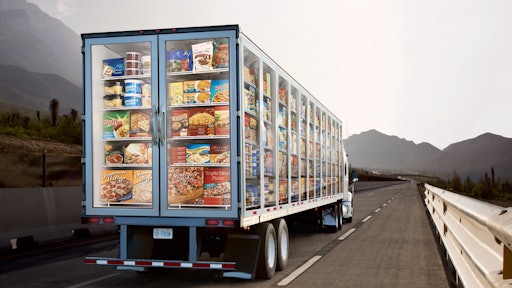 The U.S. cold chain is growing more complex as changing consumer demands, new federal regulations and even factors such as warmer weather patterns spur shippers to adjust their approach to refrigerated truckload and LTL transportation. What do these changes mean for shippers and how are they responding?
Meeting Consumers at Their Doorstep
As any food manufacturer or retailer knows, consumer demands are fickle and subject to change with little to no warning. However, the biggest change that is roiling the retail landscape has been nearly two decades in the making: the shift in consumer preference from shopping in brick and mortar stores to shopping online. Only recently have changing shopping patterns begun to ripple across the supply chain.
The most noticeable result of this transition is a fragmentation of traditional delivery networks. Consider the frozen pizza. Brick and mortar retail locations are supplied with frozen pizzas by regular, temperature-controlled full truckload shipments originating from large, regionally-located distribution centers (DC's). However, in order to meet consumer demands and expectations, e-commerce retailers must ensure speedy delivery of orders directly to the home. In order to do that, they must position their products much closer to their customers. Doing so requires a very different approach to cold chain management and transportation. Rather than relying on full truckloads delivering into regional DC's, e-commerce cold chains rely on more frequent refrigerated less-than-truckload (LTL) shipments, originating from a larger number of conditioned warehouses (or even retail locations) located as close to the consumer as possible.
Shifting Demands
It's not just e-commerce giants like Amazon that are adjusting, brick and mortar food retailers are being challenged to operate with greater agility as consumer preferences continue to shift from boxed and/or canned foods to healthier fare, including fresh fruits, vegetables and proteins, as well as increasingly popular meal kits. Due to changing weather patterns, products like candy and gum--historically shipped via dry van--are now routinely shipped via refrigerated truckload or LTL. The biopharmaceutical cold chain is also booming, with temperature-controlled biopharma products growing faster than non-cold chain. This increased demand places and even greater strain on available capacity while also creating new complexities and many shippers are turning to experienced 3PLs for help.
Increased Visibility
As the volume of products shipped via the cold chain has increased, so has the demand for manufacturers and retailers to gain greater visibility to their products in transit. Real-time temperature monitoring facilitates compliance with the Food Safety Modernization Act (FMSA), mitigates the risk of spoilage and transmission of foodborne illnesses, and reduces Overage, Shortage & Damage (OS&D) claims that arise when a load is rejected by the consignee due to product temperature issues. The ELD mandate has created a scalable platform for the implementation of real-time location tracking solutions, allowing shippers and the 3PLs that service them to keep a close eye on highly perishable shipments, like pharmaceuticals, produce and frozen foods. When combined with today's lower-cost onboard temperature sensors and software, it's more cost-effective than ever to monitor and record temperatures in real-time throughout the duration of a shipment. In the event of tractor breakdowns or other unexpected delays, shippers benefit when they can use temperature gauges to demonstrate that while a shipment may be late, the integrity of the cold chain and the appropriate temperature of the load was maintained throughout the journey.
Finding the Right Partner
Managing this increased and multifaceted complexity can be challenging for large shippers with access to ample resources. It can be even more daunting for small- to medium-sized manufacturers. Food shippers both large and small can find support from agile, technology-enabled third-party logistics providers, many of whom offer specialized food and beverage shipping expertise.
For example, in order to be compliant with the FSMA, shippers are required to determine the temperature requirements for their product(s), carriers are required to follow any instructions provided by the shipper or 3PL, and 3PLs are required to collect information from shippers and communicate that information to the carrier. If a shipper has reason to believe there is something wrong, it may request a record from the carrier of temperatures while in transit. The carrier is supposed to be able to provide that information upon request.  While real-time temperature alerts are not explicitly required by the FMSA, many shippers are requesting this visibility in order to ensure FMSA compliance and to safeguard their products. This is another area in which tech-enabled, service-oriented 3PLs can provide valuable expertise and assistance.
Clearly, the cold chain is becoming more complex, but shippers can keep their cool with the help of experienced 3PLs. These providers can offer access to refrigerated truckload and LTL capacity in a tight market, and also provide entree to conditioned facilities for the storage of products throughout the distribution network. Some 3PLs offer real-time monitoring of temperature sensors to ensure the integrity of products in transit, while also mitigating OS&D claims and lost revenues resulting from rejected loads. Most importantly, a good 3PL can act as a strategic partner to develop a customized approach to a shipper's transportation and logistics needs that are aligned with their goals and plans for the future.