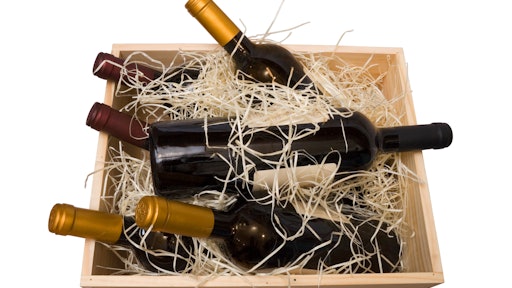 Wine shipments to the United States from all production sources, including foreign producers, California and other states, grew to 403 million cases in 2017, according to San Francisco-based The Wine Institute. Furthermore, since 2010, the United States has remained the world's largest wine market by volume. 
Not only are U.S. consumers drinking more wine, they're drinking higher quality wine.
"Consumers in the U.S. and worldwide continue to trade up to higher-priced premium wines," notes Robert P. (Bobby) Koch, The Wine Institute's president and CEO.
Yet, there remains room for improvement when it comes to the handling, transportation and care of wine throughout the supply chain.
It's estimated that more than one in three wines are subjected to poor transport conditions. And, it doesn't take radical temperature extremes to entirely diminish or damage the quality of wine. For example, wine exposed to temperatures above 77 degrees Fahrenheit can develop prematurely and lose their ability to age properly, lose freshness, and experience degradation in color and taste.
Robin Grumman-Vogt, CEO of eProvenance, which developed a patented technology to monitor and analyze shipment conditions during the transportation of wine and other commodities (such as fine art) that are sensitive to temperature, humidity and other environmental conditions, says that while ocean voyages are fairly stable when reefer containers are used, the "legs" of the journey—or what happens from the winery to the vessel, and once the wine is off-loaded from the vessel to the importer's warehouse or even the distributor—are the most vulnerable.
The company's eProvenance Score uses a proprietary algorithm to determine if wine has been compromised during transportation and storage. It calculates if the wine is still fresh or if the quality has been compromised. Furthermore, the eProvenance Score not only indicates if an inappropriate temperature has been encountered, but if the wine has been damaged. The eProvenance Score is based on a 1-100 point scale.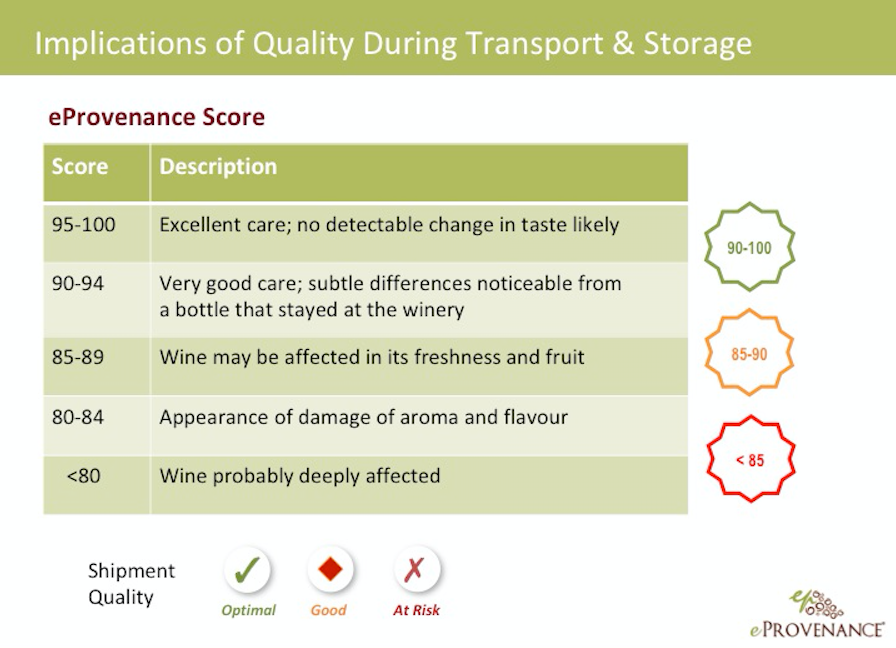 Through its Online Monitoring System, eProvenance also offers clients a secure, private dashboard where they can view reports, graphs and statistical analysis of their shipments, which can be used to reinforce what is working well or provide feedback to others in the supply chain if improvements are needed.
A key feature of the eProvenance solution is that it provides benchmark data that clients can use to see how their supply chain is performing relative to their peers.
"Working with eProvenance allows them to not only understand how they are doing, but to also understand how good they could be doing," explains Grumman-Vogt. "In other words, they get anonymous comparative data for others in the same channel."
Therefore, a shipper whose product moves from France to New York, for instance, can benchmark against others in that same trade lane to learn where they can potentially make enhancements.
Over a three-year period, the eProvenance solution has helped clients improve their shipment quality by about 30 percent. Specifically, the percent of shipments that remained within an acceptable temperature envelope improved from 58 percent to 87 percent, reports Grumman-Vogt.
She emphasizes that while sensors and temperature-monitoring devices are beneficial, the combination of extensive research together with the analytics provided by the eProvenance Score creates a powerful tool that is unrivaled in the marketplace.
Adding Insurance to the Blend 
Following a partnership with Munich Re/Roanoke Trade, the benefits of the eProvenance system have now expanded into the insurance realm with a cargo insurance offering called Full Protection.
This coverage is for shipments that use an agreed-upon standard of care—which typically means reefer containers—in conjunction with the eProvenance system.
The shipper specifies the eProvenance Score range they want to maintain for the shipment. If the eProvenance Score falls below a certain score, say 85 points, then the shipper can file an insurance claim. It's that simple, explains Grumman-Vogt. There is no need for corks to protrude or bottles to leak in order to have a claim.
"It's a very streamlined process," she remarks. Full Protection has been available for about a year, and so far clients are "absolutely thrilled with it," she adds. Both importers and wineries have used the Full Protection insurance product.
When a customer is unable to follow their standard of care, but still take appropriate measures to protect their shipment, a feature of the insurance called Quality Shortfall can apply. This enables customers to have a claim paid when there's a loss of value incurred due to temperature damage.
The insurance enables brand protection, Grumman-Vogt notes. Clients can control what happens to the wine, so if there is a low eProvenance Score the wine can be destroyed before it reaches the end consumer in less than optimal condition.
There is also optional coverage as wines move between players and various stakeholders in the supply chain. This component of the Full Protection offering is a form of insurance known as contingent insurance. If temperature damage occurs and the shipper's insurance doesn't offer coverage for temperature, then contingent insurance can step in to enable brand protection for the winery or importer.