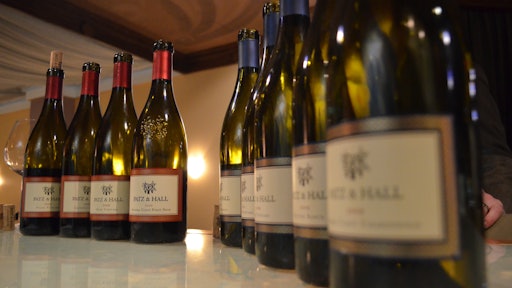 Notwithstanding U.S. millennials' penchant for craft beer and cocktails, Americans consume more wine than any other country, and consumption is forecast to increase by 2 percent between 2015 and 2019, higher than the 1.4 percent growth estimated globally, according to a report by market research firm the IWSR and the Vinexpo wine trade fair.
Even Cuba is getting attention as a new growth market for U.S. wine. Earlier this year, a two-day symposium was held in Havana to reintroduce Cuban restaurant owners and managers to California wines. The island nation saw a 76 percent surge in American tourism in 2015. While the U.S. trade embargo prohibits American producers from selling agricultural goods to Cuba on credit, it's hoped that Congress will remove the restriction soon, which would jump-start U.S. wine exports to Cuba.
China represents another market with strong growth prospects. The IWSR/Vinexpo report shows wine imports to mainland China increased by 37 percent in value in 2015 to $1.9 billion. Overall, the report says China and Hong Kong's wine imports will grow 16 percent between 2015 and 2019.
California is the dominant player in U.S. wine exports, accounting for about half of all American wineries and 89 percent of production, trailed by Washington (4 percent), New York (3 percent), Oregon (1 percent), Texas (1 percent) and all other states (2 percent).
The Wine Institute, an association representing California wineries, says California wine exports increased 91 percent by value over the past decade. "We're seeing a premiumization trend with dollar sales outpacing volume growth," adds Linsey Gallagher, vice president of international marketing. "This growth is occurring despite heavily subsidized foreign competitors, high tariffs and a strong dollar."
Of the top 10 export markets for California wines, the European Union is the largest, at $622 million, followed by Canada ($461 million), Hong Kong ($97 million), Japan ($96 million), China ($56 million), Nigeria ($29 million), Mexico ($26 million), South Korea ($23 million), Switzerland ($21 million) and Singapore ($15 million).
A Wine Institute summary of 2015 trends in key export markets points to further optimism in this sector.
Canada
California wine sales continued to be strong in Canada. California wineries have made significant investments to develop this business and expect continued growth, although at a slower pace.
Continental Europe
Nearly all export markets in Continental Europe showed an increase. Educational and promotional efforts in Germany, the largest market for California wines on the continent, are paying off with an increase of 32 percent in revenues. European Union countries accounted for nearly 40 percent of total U.S. wine exports in 2015.
United Kingdom
One-quarter of all U.S. wine exports by volume come to this country. Value increases now are outstripping volume growth, with U.S. wine export value to the United Kingdom (U.K.) rising by 28 percent in 2015. The U.K.'s wine trade shifted emphasis to restaurants and an independent retail sector, leading to increased interest in premium wines from California.
Japan
California wine is selling well in Japan, but supply was a major challenge in the first quarter of 2015 due to the slowdown at U.S. West Coast ports. Japan's California wine imports in January 2015 were down 40.5 percent by volume from 2014. The shortage has since been resolved to meet demand.
China
"With no reliable countrywide sales data, the 2015 numbers based on import/export data for China don't tell the whole story on California wine performance and, in fact, are misleading," says Christopher Beros, the Wine Institute's trade director for China.When one looks at consumption of California wines in the premium and super premium categories, sales were up in 2015. A decline in exports was due to a drop in less expensive wines being imported following excessive importation in 2013 and 2014. Sales of higher-priced wines are healthy, while even lower-priced wines are selling as depletions continue.
Emerging Markets
California wine's performance in emerging markets had some success stories in 2015, illustrated by Hong Kong, Mexico and South Korea, where export value grew 41 percent, 7 percent and 5 percent, respectively, notes Eric Pope, the Wine Institute's regional director for emerging markets.
The prospect for ongoing growth of California's wine exports remains bright, which in turn, is good news for the state's ports, especially the Port of Oakland, which leads U.S. ports in wine exports. Spokesman Robert Bernardo says, "As of 2015, wines and spirits are our No. 4 most exported commodity."
Premium Handling
As wine exports grow, logistics providers are expanding services and improving handling capabilities to minimize damage and spoilage of wine shipments.
Paul Laman, vice president of food and beverage at DMW&H, a warehouse material handling systems integrator, says it's increasingly common to find warehouses with temperature-controlled rooms for storing wine. The higher-priced wines typically are stored in these rooms, although sometimes the supplier specifies the use of temperature-controlled rooms for wines of lesser value. Other warehouse providers or 3PLs offer an entire facility that is temperature-controlled. More attention is being paid to using delivery trucks that are refrigerated, says Laman.
Some 3PLs, such as JF Hillebrand, offer products and services designed specifically for transporting wine. Its VinLiner is a protective liner foil system that fits inside dry containers or covers pallets. It reduces the effects of thermal shocks, extreme temperatures and humidity, all of which prematurely age wine and cause deterioration of the color, taste and smell. VinLiner is made from food-grade materials and is compatible with Food and Drug Administration (FDA) guidelines.
Some warehouse management systems (WMSs) also are programmed to optimize wine storage, which is an important consideration for multi-level facilities that are located in warmer climates, adds Laman. For example, in a 20-foot-high facility, it can get much hotter toward the top of the racks where warm air accumulates, which easily could damage wine.
Another area of concern that Laman sees is with the quality of the corrugated cardboard used for wine cases. "In general, the industry realized that corrugated has become very poor lately due to cost-cutting measures," notes Laman.
The trend is most evident with European wines, he says. Not only is the corrugated of lesser quality, but wineries also are removing the inserts inside the case that separates the bottles from one another.
"Bottles are rattling against one another as opposed to having a little bit of buffer space," he says. Add to that the push for more velocity in the warehouses—higher volumes moving at higher speeds—and the problem is compounded.
"There is a lot of complaining about the increased breakage with imported wine boxes," says Laman.
There are several factors that can contribute to damaged wine cartons, explains Michael Kuebler, technical director at Smithers Pira.
"Lightweighting of cardboard packaging can reduce sidewall rigidity, leading to failures in the cartons. Related to sidewall rigidity is the removal of material from the bottom of the case," he says. "This can introduce issues, as cylindrical wine bottles concentrate forces more than rectangular packages. If the base of the shipping container isn't strong enough to withstand these concentrated forces, there is a high probability of load stability issues and freight damage. Lightweighting the corrugated cases essentially turns the unit load into columns of cylinders versus bricks, which is what you achieve with strong corrugated cases."
Pallets are also being lightweighted, he says. "The pallet is the base of the unit load. As gaps in the shipping container's deck boards increase and the deck boards become less stiff, force concentrations and load stability issues grow even more."
Another challenge to unit load stability can happen during rail transportation when a load shifts from side to side. It's called hunting, says Kuebler. "This occurs when a rail car hunts for the tracks when going over certain areas of track or from rail impacts when rail cars are being linked in the rail yard."
Shippers' attempts to take advantage of all available space inside a shipping container sometimes result in higher, narrow stacks, which can cause compression or load stability issues, he says.One solution is to apply carefully designed testing protocols to model the effects of rail transport so packaging engineers can optimize their pack designs and loading, advises Kuebler.
"Issues, such as blocking and bracing, are critical to supporting various stack configurations within the container and mitigating against the negative effects of horizontal forces."
Indeed, rail is playing a bigger role in wine logistics, says Kuebler. "In general, we have seen a shift of heavier freight items to rail in an effort to reduce transport costs. With heavy items [like wine], shippers will be more likely to max out their weight on truck shipments before they cube out."
Tried and True Tips for Protecting Wine in Transit
Transportation and logistics provider Schneider offers best practices to ensure wine shipments are protected during the road or rail journey.
Get away from the wall.
Product loaded against a trailer or container wall will be the same temperature as outside the trailer within 24 hours. Conduction (the transfer of heat or cold from one object to another) can wreak havoc on temperature-sensitive cargo. Center-loading freight away from the walls is strongly recommended to eliminate the impact of temperature—and the further away from the walls, the less the chance of conduction.
Product is loaded tight against the walls in intermodal to prevent load shifts. However, rail providers approved the use of dunnage to fill voids and maintain a distance of 4 inches between the sidewall and shippers' products. A variety of options are available, from airbags to foil-backed fillers to Styrofoam panels and folding fillers. Some shippers also successfully use old pallets as dunnage. Loading engineers can help shippers create a loading pattern that will protect product from damage and temperature, and keep product moving via the rails safely.
Get your product off the floor.
Conduction doesn't just happen against the sidewall; it also comes through the floor. The solution is simple: Ensure that pallets are used to create a barrier between your products and the floor.
Use blankets—over and under pallets—to create a protective barrier.
Blankets are effective in slowing the transfer of heat or cold, but need to cover the product completely. Recent research simulating temperature changes conducted by the Environmental Protection Agency (EPA), ProTek and Schneider at Texas A&M revealed that blankets or other insulation placed under freight, on the floor of the container, are just as critical as having insulation over and around the pallet. Doing so reduces the loss of heat/cold through floorboards. The research discovered that, contrary to popular belief, heat/cold is not being transferred from the floor to the product when sitting directly on it. Instead, heat/cold is escaping the trailer via the floor and putting the product at risk.
Knowing this, retention and maintenance of optimal temperatures is a must and can extend the life of a shipment by two to three days. Loads tested side by side showed a 12-degree difference when floor product was used.
Raise or lower the temperature at loading.
Blankets slow the transfer of heat, but timing is everything. Capturing heat in the winter and cold in summer means your product will be protected longer and have more time before exceeding the temperature threshold. By starting at the desired temperature, you make the blanket more effective (on the top and bottom of the pallet) and give your product more time before it will exceed its maximum threshold.
Monitor the weather.
Monitoring the weather is complicated: Not only do you need to monitor temperature and conditions at your points of origin and destination, but you also need to include all of the points in between. Doing so needs to be an additional task on your daily to-do list, and can be done manually via the Internet or by using a service that monitors the temperature throughout the planned transit.