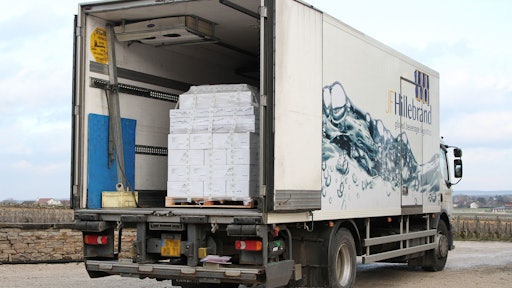 Wine has been with us for a long time, dating back to the Neolithic China site of Jiahu where traces of a fermented beverage made from rice, honey and fruit were found on pottery shards dating as far back as 7,000 BC.
Today, global production of wine is around 247 million hectoliters, which equates to more than 6.5 billion gallons (one hectoliter equals 100 liters, or 26.418 gallons). Italy, France, Spain and the United States are the top four worldwide producers, although 2017 has seen a dramatic drop in production—the lowest level this century—due to severe April frosts in Italy, France and Spain. Later, the Italian grape crop was further damaged by a drought. The country's 2017 harvest dropped 23 percent, but experts expect a return to normalcy next year.
There's still a lot of wine to be safely transported around the world. While Nielsen says that 20 million Americans drink wine, and 38 percent of them have it at least once a week, Americans still rank only 42nd in per capita wine consumption. The Wine Institute says that the United States exported 412.7 million liters (45.9 million cases) of wine in 2016. Wine clubs and mail order wines have come on the scene, though they are not available in every state.
From Vineyard to Home
The International Organization of Vine and Wine says 43 percent of all wine is consumed in a country other than where it is produced, and expects the global wine market to reach $380 billion by 2022.
Since its inception in Germany in 1844, JF Hillebrand has been dedicated solely to the business of beverage logistics, with an office or representative in every major beverage market in the world. Clearly, the global increase in wine consumption is a boon to the business, says Jessica Brady, marketing and sales development manager at JF Hillebrand, based in Benicia, California, in the heart of California's wine country.
"We are a specialized logistics provider dedicated to beer, wine and spirits," she points out. "We already have an established network in 91 countries, covering the major wine production and distribution markets across the globe. As a product, wine requires different treatment for transport—it's not one size fits all shipping when you are moving estate bottled wine from France to New York, or bulk wine from Chile to California. You have to consider the geography, seasonality and various regulatory compliance concerns for not only the product inside the bottle, but also the labels and packaging, even down to the type of pallet used."
UPS has taken note of the surge in wine consumption. For example, it is expanding its global alcohol shipments to 39 wine importing and nine spirit importing countries. The company will ship to 23 countries in Europe, including Belgium, France, the Netherlands, Switzerland and the United Kingdom. As it is with most things, China's developing middle class also is driving demand for wine. Last year, China imported $890 million of spirits and is expected to pass the United States as the world's third-largest wine importer. UPS will ship wine, beer and liquor to 11 Asia-Pacific countries, including China, Japan, New Zealand, South Korea and Thailand.
Shipments also will be expanded to Canada, Mexico, Argentina and the Dominican Republic.
"It was hard telling our international visitors they couldn't have our wine because we couldn't get it to them," Tara De LaRosa, hospitality and logistics manager at Boeger, a small family-owned winery in Northern California, said in a press release. "We are always looking for ways to expand globally and have our wines on tables around the world."
UPS is well set up for the challenges of international shipping, says spokesperson Natalie Godwin, with a global footprint of 1,800 operating facilities, 108,000 delivery trucks, more than 200 aircraft and 430,000 employees. The company is "positioned to assist U.S. and international shippers to meet their customer demand in this high-growth market," she adds.
Yusen Logistics (Americas) has developed relationships in domestic beer, wine and spirits transportation for more than 25 years and has partners that understand bailment (when actual ownership changes hands) and state laws and licensing, says Kimberly Dugan, Manager, Enterprise Account, Transportation Group at Yusen Logistics (Americas).
"International and domestic traffic is sourced very differently," Dugan explains. "At Yusen Logistics, we are trying to bridge that gap more and more to allow for a single-source option. It can be difficult because domestic traffic moves in a 53-foot box and international moves [typically] in a 40-foot box. That being said, the chassis to support the box will run in different networks and sometimes call for different trucking partners."
There also are differences in logistics between fine wines and mass consumption wines, so logistics must be tailored to the product.
"On the fine wine side, luxury wines priced at over $50 a bottle are typically going to be sold in smaller quantities, shipped in bottles and may even have special packaging such as wooden cases, compared to everyday wines," says Brady. "If a customer doesn't have other product to consolidate to fill a shipping container or a truckload, they can opt for less-than-container or less-than-truckload beverage-only consolidation services. The frequent fixed sailing schedules, combined with temperature protection requirements allow them to control their inventory and investment costs while maintaining the product integrity in transit."
On the other end, she says, fast-moving, high-volume wines will have a different logistics supply chain. These customers can achieve greater economies of scale in transport by importing foreign wines in bulk and bottling it at the destination market. It allows them the flexibility and quick reaction time to adapt labels, packaging and product in pace with the local consumption markets.
Following the Rules
Regulatory issues also play a major role in the transportation of alcoholic beverages. "Each state has its own liquor laws and this can be very tricky," Dugan points out. "It is imperative that each trucking partner you select understands the state laws they are traveling in. Each state also controls the sale of liquor and laws relating to the sale. As well, the added issue of bailment can affect inventory and taxation."
UPS has established an International Alcohol Shipping Guide to provide a high-level view that helps vintners, brewers and alcohol producers navigate the rules and regulations of global shipping requirements across borders.
"Regulatory issues affect the documentation required to clear a shipment and are unique for each destination, Godwin says. "A company doing business in the U.S. must have an appropriate license and ensure all rules of the three-tier system are followed. However, if that same company wants to sell wine to Chinese consumers, only one set of requirements are needed to access the market. Only a few countries have state/provincial requirements that must be followed in addition to country regulations." (The three-tier system of alcohol distribution was set up following the repeal of prohibition in 1933). The three tiers are importer or producers, distributors, and retailers. It means that producers can sell their products only to wholesale distributors who then sell to retailers, and only retailers may sell to consumers.)
It's not getting any easier, as one recent and one upcoming regulation show, explains Brady. SOLAS (Safety of Life at Seas) is an international regulation that went into force in July 2016 that required every ocean container moving beyond 200 nautical miles offshore to provide a verified weight before being loaded onto cargo ships. It applied to all member states of the International Maritime Organization, more than 170 of them, to clarify national and local procedures, implementation and enforcement of the rule.
"As you can imagine, it was all a bit chaotic as all the players in the transport industry worked to sort it out leading up to the deadline," she says. "Fortunately, in the U.S., port terminal weigh-in procedures were adopted to meet the mandate with little disruption."
Second, the December 18 deadline for Electronic Logging Devices for all commercial truck drivers in the U.S. is looming. "Everyone is watching very closely how this will impact capacity and pricing on over-the-road wine transport, especially as capacity has been extremely tight following the hurricane recover efforts in Texas and Florida. I think we'll see a renewed interest in rail alternatives moving forward."
Keeping it Cool
Wine is a temperature sensitive product, of course, and must be protected at every stage of storage, packaging and transportation.
"To provide guaranteed temperature in transit, all moves—from pickup at the winery to the final consignee—occur in climate-controlled traces and shipping containers. For imported wines, ocean containers are set at the customer-specified temperature and electronic data loggers placed with the unit measure temperature and humidity levels en route, says Brady. "It is the sudden spikes or drops [in temperature] that are the most damaging, rather than gradual shifts. Depending on the areas involved, the climate, and or value of the product, customers may want to still limit the impact of thermal shocks without the financial commitment of fully refrigerated transport."
To that end, JF Hillebrand has worked with the wine industry to develop a cost-effective protective liner foil system called VinLiner. Brady says it can be fitted to international shipping containers, over individual pallets or even a case or bottle configuration. "It reduces the effect of extreme temperature shocks and humidity infiltration that can cause damage to the product, as well as to labels and packaging."
The Port of Oakland is a key embarkation point for overseas shipping, especially from the nearby California wine country, making it a natural gateway, especially for exports to Asia. As a landlord port, Oakland does not perform day-to-day logistics operations that take place between the shipper, the drayage company, the ocean carrier and the terminal operator. It also does not perform container operations.
Its role is to ensure refrigerated customers' cold chain requirements are met by supporting projects and initiatives that enable cargo to move through the port efficiently.
"The Port of Oakland does make important capital investments to ensure that the infrastructure is in place to facilitate the handling of all cargo, including beverages, as efficiently as possible," says Port of Oakland Maritime Director John Driscoll. "For example, construction began in June 2017 on Cool Port Oakland, a new 280,000 square-foot refrigerated distribution center."
Cool Port Oakland will add to the port's existing cold storage facilities, along with a new rail yard within the port, and will help beverage producers increase the efficiency and timeliness of their exports.
Domestic cold chain or reefer traffic moves in specific networks, according to Yusen's Dugan. "If the traffic is reefer, the boxes are temperature controlled and typically GPS tracked. For over the road, the driver monitors the reefer temperature and fuels it when necessary. For temperature controlled using [thermal] blankets [over the pallets], the process is more cost efficient and can be used for alcohol that cannot go below or above a particular temperature. When that freight arrives at its destination, the blankets are mailed back to keep the process moving."
Weather Reports
Geography, seasonality and market differences play a large role in beverage logistics, Brady says. "The transport chain for wine in Colorado looks quite different from Miami or London or Sydney. The key is understanding our customers' pain points today and in the future as new technologies and regulatory changes will reshape the transport industry on both international and local fronts.
"By being invested in both the wine communities and transport sectors, we can build relationships and partnerships that lead to innovative transport programs. One such program customized for the North American Market is our Winter Wine Program. It optimizes the temperature protection for customers in harsh winter zones by cross-docking ocean containers into domestic trailers upon arrival. This gives customers the flexibility to choose the level of temperature protection needed for each leg of the journey. It's much easier to forecast temperatures for your deliveries when you're planning only a week out, compared to a month out or more."
The recent wildfires in northern California caused significant damage to about 24 wineries and the long-term effects are yet to be determined. UPS was forced to suspend service in parts of the Napa and Santa Rosa areas, while trying to service the areas where conditions are safe. UPS also waived its fee for its service allowing residents to redirect their deliveries to another address.
JF Hillebrand warehouse in Benicia remained open and provided temporary temperature controlled warehouse space to temporarily hold product that had arrived at the port, but couldn't be delivered. It allowed customers to move product out of shipping containers and return them to the port terminals to avoid excessive detention and demurrage charges.
Despite the difficulty and complexity of wine import, export and sale to a demanding, growing consumer market, the future looks bright.
"Alcohol consumption in the U.S. is up considerably and seems to be the only commodity that is recession proof," says Yusen's Dugan. "As the product lines grow in diversity to accommodate a variety of palates, it is my belief that we will continue to see growth in this market."
Barry Hochfelder is a freelance journalist who has covered a variety of industries in his career, including supply chain. He also served as the former editor of Supply & Demand Chain Executive. Hochfelder is based in Arlington Heights, Illinois.