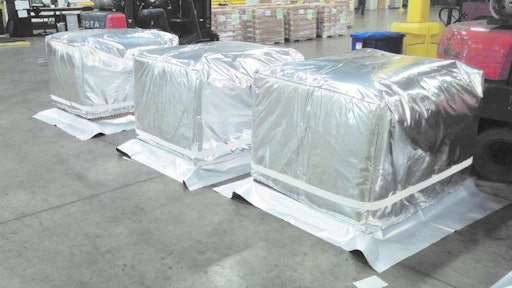 Depending on whom you ask within the food industry (and where the subject matter experts are located), confectionery purchases are either rising or falling, much like the ebbs and flows of the ocean. But, regardless of the variations in opinions on sales, the influence of confectioneries within the cold chain can't be understated.
And, as the products continue to impact the industry as a whole, confectionery producers and shippers must overcome a variety of challenges to ensure their customers not only acquire sweets in mint condition, but in a timely fashion as well. To achieve these objectives, many confectionery professionals are working alongside third-party logistic providers (3PLs) to improve the temperature control, transparency, branding and short- and long-term sales of their products.
Food Logistics recently spoke to some of these professionals and 3PLs to better understand how confectionery producers and shippers are successfully competing in the expanding cold chain.
Confectionery Sales Growth: Opportunities and Challenges
Although supply shortages likely will stall North America's confectionery sales growth in the coming years, sweets still remain a growing segment in the cold chain globally, according to Mark McKendry, vice president of intermodal at NFI. After all, producers are increasing their sales volume through various methods, including consolidation, product line diversity and shipping from countries like China—which have made significant inroads in the confectionery market—where labor and ocean shipping costs remain low.
"We are also seeing more aggressive marketing outside of the United States by U.S.-based companies, with more clients asking for solutions to export products," says Bob Lilja, COO and senior vice president, operations for Weber Logistics. "Industry consolidation in the last half dozen years has also changed the dynamic, as larger shippers are now tendering a larger variety of products into the confectionery supply chain, especially snack foods with chocolate elements that need temperature-controlled distribution."
As the opportunities for confectionery growth continue to rise, especially overseas, producers also are encountering a wide array of challenges. For starters, as a means to reduce the public's sugar consumption, proposed government regulations may increase confectionery producers' taxes in some regions of the world, according to McKendry. Not to mention, many of their warehouses are not configured for 55 to 65 degrees Fahrenheit—an ideal temperature zone for most confectioneries—and their providers are often small, lack new technology and do not provide service to some geographic areas.
The challenges are equally apparent for shippers as well. In particular, temperature sensitivity is a critical element of confectionery shipping. Not only are products at risk for exposure to temperature fluctuations and extreme temperatures, but companies' brands may be directly impacted, especially if their products' textures and appearances are altered.
"Temperature-controlled equipment is the most common form of protection used by shippers," says Kevin Lynch, director of food and beverage at Q Products & Services. "Another is passive temperature protection, which provides shippers flexibility to use both temperature control and dry equipment to reduce costs and minimize supply chain disruptions."
In addition to temperature sensitivity, shippers must also consider the influence that recent industry consolidation, along with developing markets' increase in disposable income, has had on product diversity, especially in an industry that was previously focused on core products for the most part.
"Product diversity and developing markets will be key drivers of growth for the confectionery segment in the coming years," McKendry states. "So, as the needs of shippers' supply chains evolve, particularly with consolidation and product diversity, they can receive assistance from supply chain solutions providers who can streamline processes, produce seamless transitions and accommodate growth."
An Engaging, Transparent 3PL Partnership
To successfully maintain sweets' appearance and appeal, confectionery shippers require various offerings from their 3PL partners, including, but not limited to, temperature control, time-defined service performance and transparency. For instance, since confectionery products are subject to high and low temperatures outside of the 55 to 65 degree Fahrenheit range (they will "bloom" if they're too cold or become too sticky if they're too hot), their temperatures must be maintained throughout the entire shipment process—from point of origin to delivery—no matter how far shipments travel, or when.
"Time-defined service performance is also important," says Weber Logistics' Bob Lilja. "Most stores do not have space to maintain for even a few pallets of confectionery product, so timely deliveries and appointments are necessary to keep products and delivery trucks moving."
Transparency, with regards to 3PLs' approaches to moving or handling goods (source-to-factory, factory-to-distribution center or last mile logistics), is also key. To achieve supply chain visibility, 3PLs must remain informed of industry regulations and trends so that their assets or facilities can meet all food safety guidelines. At the same time, 3PLs should also be compliant of any changes that may affect food manufacturers, and prepare for them well in advance of their implementation.
"This proactive preparation and compliance can keep food products safe, while also minimizing the risk for recalls or fines," McKendry explains. "An end-to-end approach to supply chain solutions also helps confectionery shippers seamlessly integrate and ensure compliance across their supply chains."
Third-party logistics partners should also consider engaging with confectionery shippers, often beginning conversations simply, but intelligently, and with a focus on their supply chains. For example, according to McKendry, they can ask shippers where they source their cocoa from, where it is processed into finished goods and how they are managing their inbound and outbound logistics. Such questions then lead to further questions and, eventually, information that can be used to help producers develop comprehensive solutions that address their specific requirements.
"Whether it's from a global, North American or short haul perspective, 3PLs' abilities to address customers' needs, via customized solutions, enables them to add value to the cold chain," McKendry adds. "It is important for 3PLs to have the expertise and scale they need to grow with their customers as they offer confectionary solutions like cold chain distribution, global logistics, real estate, temperature-controlled transportation, transportation management or any part thereof."
Aside from offering such solutions, supply chain partners like Q Products & Services can also provide confectionery shippers more options to protect their brands throughout their entire supply chains. As an example, since refrigerated LTL transportation is costly and timely, shippers can use passive thermal solutions instead, so that they are able to switch their modes to dry LTL, have lower rates, ship products to customers faster and, in turn, improve their branding.
"Furthermore, some grocery retailers have asked supply chain partners to help improve delivery practices to the grocery aisle," says Q Products & Services' Kevin Lynch. "Using temperature-controlled equipment is not always operationally feasible, especially during holiday seasons like Halloween. Having a unique solution to protect sensitive chocolate without refrigeration can be very advantageous to retailers, helping them to protect shippers' brands."
Not Too Hot, Not Too Cold
Without question, confectionery cargo is unique. According to Weber Logistics' Bob Lilja, its packaging has quite a bit of unfilled space, so cartons can crush easily and must be handled carefully. The raw materials used to create the final products are also very valuable, so providers (and their subcontractors) must have cargo liability that aligns with the actual value of the goods that are transported.
Of equal importance, not only should the cargo not get too hot, but it also can't be subjected to extremely cold temperatures either. Third-party logistics providers' temperature-controlled services must be able to address temperature-related challenges, such as loading products from facilities with proper temperatures to containers that are below zero degrees Fahrenheit, across the entire supply chain. And, since confectionery production facilities often don't have much warehousing space, 3PLs should also provide shippers a variety of temperature-controlled assets on-site.
"Third-party logistics providers can also manage specific appointment windows for 'live' loading, if the shippers allow for it," McKendry says. "There will need to be visibility to trailer temperatures throughout the shipment cycle though, and the temperature requirement is often dictated by the shippers. That data, and its interpretation, can mitigate claims and allow shippers to pinpoint issues in their supply chains."
After all, the influence of temperatures is dependent upon the specifics of the shipment; some confectioneries don't need to be placed in refrigerated containers or trailers, while others can be stored outside of temperature-controlled environments for short periods of time. Generally though, confectioneries should be stored in refrigerated containers during the summertime and in heated trailers during the winter months, as confectionery cargoes are just as prone to damage in freezing temperatures as they are to destruction in the heat.
"When chocolate is exposed to temperatures below 45 degrees Fahrenheit, it can 'bloom', causing a white, chalk-like look, which changes the color and taste of the product and makes it unsellable," Lilja explains. "Simply put, chocolate requires temperature control at both ends of the spectrum."
In addition, "Crystallization of the goods can also occur if a load of chocolate is loaded and shipped in an ambient container or trailer," McKendry adds. "To prevent damage from freezing and hot temperatures, 3PLs can monitor cargo in real-time and remotely control temperatures to ensure products remain at ideal temperatures. By looking for 3PLs with expertise, capabilities and temperature-controlled assets, confectionary shippers can ensure their products have the right temperature for every season and climate."
Companies in this article