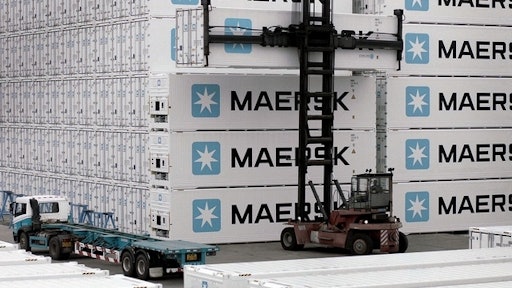 Over the past 15 years, specialized reefer carriers have lost their majority control of seaborne perishable trade to containerized carriers. In 2000, specialized carriers held 60 percent of the market. Today it's closer to 26 percent or less.
Meanwhile, container carriers are investing heavily in their reefer fleets. Maersk Line, which controls 20 percent of the global market in terms of reefer capacity, purchased 30,000 new reefer containers in 2015 and plans to buy more in the years to come, according to Shereen Zarkani, global head of reefer management, in an interview with ShippingWatch.
That's not all. The global shipping giant reinstated its SeaLand brand last year targeting the intra-Americas market, with reefer business figuring prominently for the carrier. In February, SeaLand launched its SeaLand Atlantico service linking Mexico with Philadelphia. Mexican exports of avocados, lemons and tomatoes are among the perishables that now have a viable ocean transportation option.
"We are pleased to provide Mexican exporters an alternative to land transport with a high level of security and care for their products. With the SeaLand Atlantico customers avoid transloading cargo, congestion at the border and limited truck power between countries," remarked Jorge Monzalvo, commercial manager for SeaLand Mexico.
Other containerized carriers are making similar investments in their reefer business.
Hamburg Sud added 400 reefers to its fleet last fall. The new boxes feature Carrier Transicold's XtendFRESH system that slows the ripening process of fresh produce by actively managing oxygen and CO2 levels and removing ethylene, the hormone generated during the ripening process.
An uptick in activity on South American trade lanes also prompted Hapag-Lloyd to boost its reefer fleet with an order for 6,000 boxes in August. This follows the carrier's order last April for five new 10,500-TEU ships with capacity for up to 2,100 reefers that will be deployed primarily on north-south lanes in the Americas region. Hapag-Lloyd also acquired the container operations of Chile's CSAV in December 2014, giving the carrier additional reefer capacity and boosting its position in the region.
As for specialized reefer carriers, the sharp drop in oil prices is making the fuel-guzzling vessels competitive again and slowed the scrapping of old vessels as well, according to a shipping consultant at DynaLiners. This trend is obviously a temporary one, however.
Seatrade, the world's largest specialized reefer carrier, also sees the benefit of transporting temperature-controlled cargo in containers and is changing its business strategy accordingly. The carrier ordered four 2,200 TEU vessels last year from China's Zhejian Yangfan shipyard with an option to order four more.
"As opposed to the reefer-heavy ships generally deployed by container liner operators in the southern hemisphere trades, the new Seatrade vessels will be full-reefer-capacity units," said the DynaLiner shipping consultant in an interview with The Maritime Executive. "This means they will carry a full load (by deadweight) of filled, almost exclusively 40-foot high-cube refrigerated containers connected to 670 to 770 plugs."
The new Seatrade vessels are purposely built for accessing small niche ports in areas where produce is grown. With speeds up to 20 knots and a maximum draft of 9.2 meters they are "fast and shallow" yet designed to hold three times the pallet capacity compared to Seatrade's largest conventional ships.
Box ports prepping for more reefers
The migration of reefer business from specialized carriers to containerized carriers is also driving changes at major box ports in the U.S. and other global regions.
South Carolina Ports Authority (SCPA) reported that the Port of Charleston experienced an impressive 38 percent increase in reefer cargo volume from 2011 to 2015. Pork and poultry are top refrigerated exports at the Port, while meat from Australia and New Zealand are leading refrigerated imports.
Cold storage capacity near the Port of Charleston is supporting the growing reefer business.
In January, SCPA celebrated the newly-expanded New Orleans Cold Storage (NOCS) facility in North Charleston. The expansion project increased the facility's blast freezing capabilities by 50 percent and added 81,000 square feet to the existing facility, bringing the total to 136,000 square feet of cold storage.
"This expansion will help us continue to be one of the largest logistics and cold storage suppliers to the poultry, pork, beef, seafood, vegetable and international refrigerated food industries," said Mark Blanchard, NOCS president and CEO.