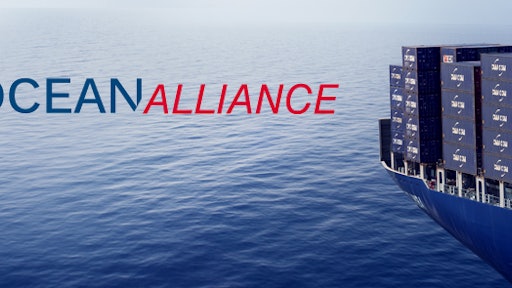 Some of the world's biggest container operators, including China's Cosco Group and France's CMA CGM, agreed to form a new shipping alliance that will rival the dominance of giants Maersk Line and Mediterranean Shipping Co. in the lucrative Asia-to-Europe ocean trade, according to The Wall Street Journal.
The new grouping, to be called the Ocean Alliance, also will include Hong Kong's Orient Overseas Container Line and Taipei-based Evergreen Marine.
The formation of the alliance is subject to regulatory approvals from the U.S., the European Union and China, all of which have closely scrutinized a series of full-blown tie-ups and looser partnerships recently in the container-shipping business.
The Ocean Alliance eventually will make room for Singapore's Neptune Orient Lines Ltd., which agreed to be bought in December by CMA CGM.
Cosco Group and China Shipping Group, meanwhile, recently agreed to merge, a deal that would bring the combined Chinese firm under the auspices of the new alliance. The China Shipping-Cosco merger has been approved in Beijing but needs a regulatory green light in Europe and the U.S.
To read more, click here.
Editor's Insight: Food exporters face increasing cost pressures as ocean carriers form alliances that could impact carrier rates. Tyson Foods Inc., which exports more than 50,000 ocean containers of frozen food and other animal products annually, asked the U.S. Senate Commerce Committee on Wednesday to press the Federal Maritime Commission for "a more thorough review of these foreign carrier alliances to ensure that their actions do not result in a logistics network within the ports that adds more truck trips and congestion to an already overloaded port infrastructure."
Shippers have noted that vessel-sharing agreements make handling shipments more complex and costly.
In the U.S., food exporters also face a challenge under the United Nations' International Maritime Organization proposed Safety of Life at Sea (SOLAS) container weight documentation rule that is scheduled to take effect July 1. 
As global trade increases and ports invest in infrastructure, food and beverage companies have a lot of growth opportunity. But companies have to be cognizant of changing costs in preparing for growth. Food and beverage supply chain players need to support industry organizations such as the Agriculture Transportation Coalition that lobby on their behalf.  4-21-16 By Elliot Maras