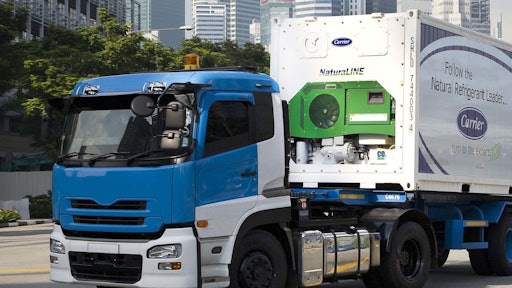 The global cold chain continues to expand at a rapid pace, forcing transportation and logistics providers to become experts on the fast-changing field of temperature control technology. In the U.S., shippers, carriers and 3PLs are keeping tabs on the FDA's pending temperature control regulations. But government regulations are not the only factor driving change.
As the cover story on page 6 notes, the growing food supply chain has created a situation that has resulted in more recalls in recent years. As the supply chain expands, so has the potential for lapses in temperature control.
In addition, carrier capacity has hit an all-time low, creating concern about product quality assurance in the supply chain.
Much of the innovation taking place in reefers and trailers today focuses on temperature control. Fleet managers agree the Food Safety Modernization Act (FSMA) requirements that address temperature control, while not yet final, have created a lot of industry discussion on this topic.
Concern over the pending regulations focuses largely on temperature monitoring (See sidebar on page XX.) While pending regulations have heightened concern about temperature monitoring, this is only one aspect of the overriding goal of achieving temperature control and quality assurance in the food and beverage the supply chain.
Transportation decision makers are finding a variety of temperature control solutions on the market. These include tracking of assets (trucks, trailers and containers) in transit, temperature tracking, container access control, package atmosphere control, environmentally-sustainable refrigerants, thermal quilts and more.
Higher quality truck body
Feesers Inc., a Harrisburg, Pa.-based foodservice distributor serving six East Coast states, has found the new Alpine truck bodies improve insulation and reliability for hauling perishable foods. The 26-foot Alpine truck body, a collaborative effort between Chicago, Ill.-based Great Dane Inc. and Rice Lake, Wis.-based Johnson Refrigerated Truck Bodies, also has four temperature zones, says Bob Herr, fleet manager. The company has run trucks with frozen and refrigerated sections for years, combining the dry and refrigerated in one section.
While Feeser was initially concerned about meeting FDA's pending temperature control requirements — the truck bodies were engineered specifically to meet more stringent food safety rules — Herr has found other benefits. The Alpine box has high-quality construction, which better ensures thermal efficiency. In addition, the truck body bolts to the side of the chassis with no wood between the chassis and the body, while the foaming ensures void-free insulation and a high level of thermal efficiency.
Because of the truck body's construction quality, Herr feels he doesn't have to worry about keeping the J-bolts tight like he did with his previous boxes. "It's just better built," he says.
Feeser is currently using two of the Alpine body's four temperature zones — frozen and refrigerated — but Herr appreciates the flexibility that four temperature zones provides. The company has deployed three Alpines this year with six more on order for its 94-trailer fleet.
Telematics give new options
More wide-scale use of telematics is helping refrigerated fleets avert load loss by assuring refrigeration units have enough fuel and are set correctly and running properly throughout a trip. Fleets can both remotely monitor and control refrigeration. Control examples include tasks such as starting the unit, selecting temperature set points, switching between continuous and start-stop operating modes, defrosting units, clearing alarms or running diagnostic routines.
Carrier Transicold's APX control system for trailers offers the ability to display data recorder trip graphs, providing a visual indicator of conditions within the trailer throughout a delivery run, says Patrick McDonald, product manager for trailer products, Carrier Transicold Truck, Trailer, Rail – Americas, based in Athens, Ga.
The company's DataTrak protocol enables the APX control to be used with third-party telematics systems. Refrigerated operations that equip their fleets to use telematics can communicate with their Carrier Transicold refrigeration systems.
Remote data monitoring may also simplify centralized recordkeeping for Hazard Analysis and Critical Control Points (HACCP) auditing and may possibly play an important role for compliance with the Food Safety Modernization Act (FSMA), McDonald says.
Satellite tracking supports temperature control
The ColdLink satellite tracking tool from PLM Trailer will allow a fleet manager to control and monitor temperature and other activity for an entire fleet remotely, says Don Durm, director of strategic solutions for the Montvale, N.J.-based company. A computer on the vehicle's refrigeration unit interfaces with the Carrier or Thermo King unit's microprocessor. "You can actively participate in the supply chain in real time," Durm says.
The ColdLink allows a manager to "geofence" certain locations to send alerts or potentially change the operational parameters of the refrigeration system once the unit has either entered or exited the area of interest.
ColdLink also tracks driving behavior, engine activity and route activity. The fleet manager can access reports over the Internet. Data includes refrigeration status, location, fuel level, movement and air temperature. The system can also probe product temperature.
The ColdLink software even allows managers to drill down on locations and learn more about asset activity.
There is no longer a need to do a "micro download" after a load has been rejected, Durm say. The distributor/shipper can set their individual parameters as to temperature profiles, door opening or route compliance.
If there is a violation, ColdLink notifies the shipper in real time and gives them the ability to make changes from their desktop. Should a violation occur, such as if a driver changes the temperature, the fleet manager can change it back. Should he or she receive an alarm code on the unit, the fleet manager can clear it and move forward without involving the driver.
While FSMA rules are not final, Durm thinks there is a good chance shippers will need to monitor their equipment. "FSMA will be requiring documentation," he says.
Temperature control on intermodal containers
NFI Industries, the Cherry Hill, N.J.-based supply chain solutions provider, introduced several temperature monitoring features to its rapidly-expanding 200-container intermodal business. Don Aiken, senior vice president of intermodal, says Thermo King containers come with sensors that provide NFI with real-time data to monitor the health of the refrigeration unit. Thermo King's cloud-based monitoring allows the shipper and the receiver to track the internal temperature in real time throughout the load.
"We're able to actually diagnose and manage better than an OTR driver," Aiken says. In addition to tracking container temperature, the system monitors temperature for the engine RPMs (revolutions per minute), coolant oil, diesel output, and generator output as well as other critical systems. There are sensors that track attempts to open the containers, ensuring product integrity. "This information is pushed to us at regular intervals throughout the transit," Aiken says.
While many customers choose not to monitor in real time, Aiken says there is an electronic log available after a load completes.
Produce companies regularly track product temperature, Aiken says. They also ensure product temperature at loading and unloading by pulping the product with a thermometer at multiple locations in the container.
NFI is confident that its customers will be able to meet FSMA requirements.
Refrigerants reduce greenhouse gas
Some carriers are introducing refrigeration units designed to reduce greenhouse gas emissions.
Thermo King this year began offering North American customers new options for trailer and self-powered products with lower global warming potential (GWP), pending approval by the U.S. Environmental Protection Agency under the Significant New Alternatives Policy program.
These new trailer and self-powered truck products use a new refrigerant that reduces GWP by around half compared to refrigerants that are currently being used for these applications. Thermo King, in partnership with Wilmington, Del.-based refrigerant manufacturer, Chemours, selected Opteon XP44 (R-452A) for this alternative offering of transport refrigeration products. Thermo King will continue to offer its transport customers its current line of transport refrigeration products until customers are ready to transition.
"Our intent has always been to offer operators a choice of how and when to lower their GHG footprint without compromising the product performance they expect from Thermo King," says Ray Pittard, president of Thermo King. "We made this new line of trailer and self-powered truck units available to customers in Europe, the Middle East and Africa earlier this year and have sold more than 500 units in the first three months of the product's release."
At present, there are no U.S. government mandates to phase out hydrofluorocarbon (HFC) refrigerants in transport refrigeration applications specifically, according to Edward Goh, marketing director, Carrier Transicold Global Container Products in Singapore.
However, this could soon change. In 2014, the U.S. and China agreed to work together to cut the consumption and production of HFCs, and G-20 leaders followed by expressing their own support for an HFC refrigerant reduction.
Carrier Transicold is working on an OTR application of its NaturaLINE refrigeration system for marine transport that uses the natural refrigerant CO2 instead of a synthetic refrigerant. CO2 has a GWP of one compared to R-134a, which has a GWP of 1,430 and is typically used in container refrigeration, and R-404A, which has a GWP of 3,922 and is typically used in truck and trailer systems.
"By offering an energy-efficient system using a natural refrigerant that delivers high refrigeration capacities, we provide the shipping industry with a viable hedge against procurement challenges or cost increases related to phase outs of higher GWP synthetic refrigerants, which have been targeted by multiple governments and environmental agencies for a variety of applications," says David Appel, president of Carrier Transicold & Refrigeration Systems.
Appel says CO2 is the only natural refrigerant that is neither flammable nor toxic, is available worldwide, is cost-effective and requires no special disposal. "Carrier has extensive experience with CO2, applying the natural refrigerant safely and reliably in CO2OLtec commercial refrigeration systems, which are now used in nearly 1,500 European supermarkets, and successfully trialed in road transport refrigeration systems as well," Appel says.
Secure trailers and containers
Q Products & Services, the Hazel Crest, Ill.-based provider of passive temperature protection products, has a security solution called Power In–Lock that mounts to trailer and container doors that secures the cargo from the inside. It can work on both roll-down or swing-out doors. There is an electronic seal that verifies opening and closing. "We know there is a need for that type of solution, given all the food safety laws, specifically the (FSMA) sanitary transport act," says Kevin Lynch, national account manager for food and grocery. "If a seal is broken, you can verify if the door was not open in a given time frame, ensuring that tampering did not occur to the cargo."
Q Products & Services also has a wireless remote monitoring software solution called TempVision that can be used on trailers. This allows a vehicle to download its temperature data when it arrives to its destination. The data can download via Wi-Fi or radio frequency.
Controlled atmosphere technology evolves
For overseas shipping, where transit times for perishables can be several weeks, controlled atmosphere technologies are helping to maintain quality of perishables beyond what refrigeration alone can do, according to Edward Goh, marketing director for global and container products at Carrier Transicold. This enables longer duration transport. Carrier Transicold's XtendFRESH system controls oxygen and carbon dioxide levels and removes ethylene, a hormone produced by perishables that will accelerate unwanted ripening if left unchecked.
The system has a self-regenerating, activated carbon scrubber assembly that removes ethylene and CO2 created by the ripening processes occurring inside the container. As O2 (oxygen) is consumed by ripening produce, automated, on-demand fresh-air ventilation helps maintain the optimum O2 level for the specific cargo inside.
By slowing ripening, XtendFRESH lengthens the amount of time produce can spend in refrigerated transit — by more than double in some cases. For example, bananas can be shipped for up to eight weeks rather than four, and beans for up to four weeks rather 10 days.
Not all temperature control innovations are highly technical, however.
Price Chopper, the Schenectady, N.Y.-based supermarket chain, has been testing the Cap & Wrap PalletQuilt from Q Products & Services to haul ice cream on refrigerated delivery trucks. The company delivers most of its ice cream in dedicated frozen trailers. By wrapping ice cream pallets with these thermal quilts and shipping them with perishables, they are able to save the extra trailer delivery to the store. The quilts maintain the quality of the ice cream throughout the delivery process.
"It's a passive form of protection," explains Lynch at Q Products & Services. "It's not designed to eliminate multi-temp trailers," but rather it gives a grocery retailer flexibility. Delivering ice cream to the stores is a challenge for grocery retailers, and this simply provides another viable option for certain routes. Retailers have the option of using bulkheads for delivering ice cream. But compared to quilts, bulkheads take up more space and are cumbersome when unloading the reefer, especially on multi-stop deliveries, Lynch says.
Q Products designed the Cap & Wrap PalletQuilt for the grocery store distribution application. They are height adjustable to accommodate different size pallets.
Randall Manufacturing introduced an elevated platform that provides drivers with improved side door delivery. This allows efficient mingling of dry, refrigerated and frozen goods on one trailer. In combination with a bulkhead, this platform can eliminate the need for a freezer door, says Chuck Carey, vice president of sales.
The platform elevates to the trailer floor without the use of a transition plate, providing full use of the area. The 48-inch by 52-inch platform space has two purposes: a first-stop loading position, enabling the trailer to be fully cubed; and an area to safely transition heavy loads from the platform to the walk ramp.
In addition, the elevated platform provides drivers with the flexibility of positioning the walk ramp on the platform either parallel or perpendicular to the trailer. This latest innovation enables efficient side door delivery and the ability to fully cube the trailer. The end result is increased productivity and safety as well as increased revenue potential per trailer.
More innovations on the way
In the meantime, more temperature control solutions are in development.
"Electric standby" provides the ability to plug parked truck or trailer units into electric power receptacles, enabling the refrigeration systems to run with their diesel engines shut off, says McDonald at Carrier Transicold. This conserves fuel and also eliminates the noise and emissions associated with running the diesel engine.
Depending on the price of fuel and electricity, it is typically 40 to 70 percent less expensive to operate the unit on electricity only, rather than diesel power. One food distribution company reports that it cut fuel usage by up to 80 percent by adopting Carrier Transicold's more fuel efficient Vector 8600MT multi-temperature units and taking advantage of electric standby, McDonald says.
FSMA: Temperature Monitoring And Sanitation Requirements Uncertain
Supply chain companies may have to deploy more temperature monitoring and sanitation tools if certain proposed requirements within the U.S. Food Safety Modernization Act (FSMA) become law. Bud Rodowick, manager of fleet performance at Thermo King, says under the FSMA's proposed Sanitary Transportation of Human and Animal Food rule, shippers must specify the sanitary requirements for vehicles carrying food and the temperatures that must be maintained. It is not certain which products will require continuous temperature monitoring. Nor is it clear if the shipper will have to monitor the air temperature of the container or the product temperature.
Sanitary requirements for transportation equipment is also uncertain, Rodowick says. Under the proposed rule, a shipper must specify all necessary sanitary requirements for the carrier's vehicle and transportation equipment, including design requirements and cleaning procedures to ensure the vehicle is in appropriate sanitary condition for transporting food.
Transportation equipment not only applies to vehicles, he says, but to pallets, bins and fittings.
"I think that the new law is a certainty," says Brian Fues, general manager, Penske Logistics. "What we don't really know are all of the requirements and implementation dates. Many shippers will struggle to find capable carriers who have the systems and adequately maintained equipment necessary to comply with the new rules."
Fues thinks the use of electronic temperature monitoring will grow. "While some may try to comply with written temperature logs, I think the industry best practice will be electronic monitoring controls. Similar to driver's logs, I believe that electronic logs will be and should be mandatory. We're in a technology-filled world, so there is no reason that continuous monitoring should be a challenge or major expense for any shipper. Luckily, systems from companies like ibright, Sensitech and PLM Trailer's ColdLink are easy solutions to implement and they are affordable."
Following are some highlights of the FSMA sanitary transportation rule.
"Proposed § 1.904 would define 'transportation equipment' to mean equipment used in transportation operations, other than vehicles, e.g., bulk and non-bulk containers, bins, totes, pallets, pumps, fittings, hoses, gaskets, and loading and unloading systems and also state that transportation equipment would also include a railcar not attached to a locomotive or a trailer not attached to a tractor."
"The proposed rule would require that shippers specify to carriers in writing the sanitary requirements for a vehicle or transportation equipment to be provided for all food subject to this proposal and the temperature requirements for foods subject to temperature control requirements."
"Proposed § 1.904 would define 'Time/Temperature Control for Safety Food (TCS Food)' as a food that requires time/temperature control for safety to limit pathogenic microorganism growth or toxin formation."
Port Jersey Logistics, a Cranbury, N.J.-based 3PL, was able to store temperature sensitive olive oil this year without having to build a special room. The company used a modular curtain wall to store the olive oil. Olive oil changes color after it arrives due to temperature fluctuations in transit. The olive oil has to be heated for 24 to 48 hours to regain its natural color.
The company used a product called InsulWall from Elmhurst, Ill.-based Randall Manufacturing to create the heated room for olive oil at its new, 700,000 square-foot warehouse.
InsulWall's interior insulation sandwiched between exterior vinyl forms an insulated wall that creates temperature- and humidity-controlled rooms. By not building a permanent wall, Port Jersey Logistics maintained the ability to reconfigure its warehouse space without wall removal and construction. Based on the savings in energy costs, InsulWall paid for itself in one year.
"We were initially using an industrial vinyl wall to partition the space," says Galo Panchi, facilities manager for Port Jersey Logistics. "Our heating expenses were through the roof. InsulWall was evaluated as a flexible, modular insulated wall solution as an alternative to a permanent wall."
"They can install these panels with pallet rack still in place," says Chuck Carey, vice president of sales at Randall Manufacturing. This cannot be done with rigid panels. "It's considered a temporary wall."
For More Information:
Carrier Transicold, 800-227-7437, www.carrier.com
Chemours Co., 302-773-1000, www.chemours.com
Great Dane Inc., 773-254-5533, www.greatdanetrailers.com
Johnson Refrigerated Truck Bodies, 800-922-8360, www.johnsontruckbodies.com
iBright, 64-9-379-7211, www.internationaltelematics.com
Penske, 888-236-3560, www.Penske.com
PLM Trailer, 877-736-8756, www.plmtrailer.com
Port Jersey Logistics, 609-495-1300, www.portjersey.com
Q Products & Services, 708-331-0094, www.qsales.com
Randall Manufacturing, 630-782-0001, www.randallmfg.com
Sensitech, 800-843-8367, www.sensitech.com
Thermo King, 952-887-2200, www.thermoking.com