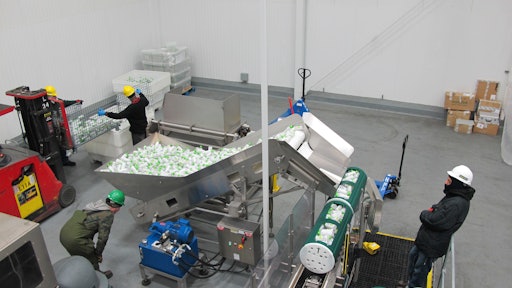 The Food Safety Modernization Act (FSMA) does not specify what methods companies have to use in managing perishable food. But it has generated a wave of interest in cold food handling tools and technology. Retailers, manufacturers, distributors and transporters are all making use of a variety of methods, ranging from high pressure processing, sustainable refrigerants, mechanized doors, and LED lighting to remote vehicle temperature monitoring.
The Lineage Logistics facility in Santa Maria, Calif., deploys hundreds of temperature sensors in its receiving, storage and shipping areas to provide constant visibility into the operations of its refrigerated systems and to help maintain quality control. From the data collected via the sensors, managers can make adjustments to the system to minimize temperature variability, protecting the integrity of product as well as saving energy.
"Sensor data analytics and the whole Internet of Things phenomena are leading us to new business use cases that were science fiction a few years ago," says Tim Smith, executive vice president of sales and business development. "The use of these new technologies is not only helping keep the food chain much safer, it's accomplishing that feat while optimizing its energy spend and reducing our environmental impact."
New Tools Emerge
High pressure processing (HPP), a post-packaging, non-thermal pasteurization method of killing microorganisms, uses elevated hydrostatic pressures of up to 87,000 psi to reduce overall microbiological contaminant flora and pathogens, such as Listeria, E. coli, Salmonella, lactic acid bacteria, yeast and mold. Not only does HPP help retain food quality – including nutritional value and natural freshness – it keeps food safer longer.
"This is the perfect time for HPP technology as it helps to accommodate changing consumer preferences for fresh product on the perimeter of the grocery store," explains Smith. "We didn't want to get too far away from our core revenue streams, but we did want to diversify and be open to emerging technologies and evolving shopping behavior. We decided HPP is a good investment for revenue generation that provides additional service for existing and potential customers."
Smith says the company can provide HPP for customers looking to extend the shelf life of their products as well as a total supply chain solution. "What a 3PL HPP provider can offer produce and other food processors is an under-one-roof, cost-effective solution," he adds. "We can store our customers' in-process product, run it through HPP, package and label it, prepare the paperwork, and as needed, distribute the product."
Blast Freezing Offers Benefits
Americold, the global cold storage solutions company, offers blast freezing services to its customers to rapidly freeze products to maintain their integrity more thoroughly and extend their shelf life. It is a commonly used process on fresh meat, poultry and seafood as the quick-freeze process forms smaller ice crystals than traditional freezing methods.
"These smaller crystals have less of an adverse effect on the texture of product," Daniel Cooke, director of marketing, says. "Traditional freezing, in a home freezer say, can create larger ice crystals in the product, and these larger ice crystals will rupture cell walls in food. When defrosted, the meat, poultry and seafood especially may have broken down fibers that feel mushy in your mouth." Americold offers blast freezing services in the majority of their facilities.
To reduce temperature fluctuations around high traffic entry areas, Americold has installed rapid roller doors, and in some instances, "air curtains" instead of physical doors between cold rooms at its facilities. "The air curtain solution allows the entryway to remain open," Cooke says. This enables more efficient transition between temperature-controlled zones.
LED Lighting Plays a Role
Motion-activated LED lighting, relatively new in the commercial refrigeration market, has also been installed, and automatically activates when associates enter the aisle, but then that shuts off when no one is in the area, reducing energy use. "It's definitely the lighting system of choice now," says Cooke.
"Americold has been using RFID barcode scanning for a while now," Cooke says. "RFID technology allows much more rapid product identification and put away once the warehouse receives product. The RFID tags are placed on the cases or the pallets as determined by customer profiles."
Americold is also expanding Global Food Safety Initiative (GFSI) compliance for each of its facilities' food safety management systems. The company uses ASI Food Safety Consultants as its certifying body for the Safe Quality Food (SQF) program.
Demand Defrost Advances
Quality Refrigerated Services is using demand defrost from Logix, a provider of refrigerated energy management. Mike Amundson, president at Quality Refrigerated Services, says the first sensors were not durable and reliable when this technology first came on the market. "It's supposed to be much more reliable and accurate," Amundson says. "When it was first brought out, the sensors weren't very reliable or durable. We've been told the new system with new technology will eliminate over-defrosting," The goal is to defrost only when you absolutely need to, for the minimum amount of time. The company has deployed it in one of its three facilities, but plans to install it to all three facilities.
Quality Refrigerated Services is also using LED lighting and motion sensors as well as energy efficient battery chargers, Amundson notes.
Temperature Control Improves
Henry's Foods, a foodservice and retail food distributor, has installed a temperature monitoring controller from St. Cloud Refrigeration on its compressor racks that ensures consistent temperature, says Travis Koep, warehouse manager. "They're able to make adjustments for exterior extremes, whether it be hot or cold out. They're able to tell me if I've got a Freon leak," Koep says. "They are able to talk to it to make adjustments also. The provider can fix issues online as opposed to having to send a tech to the facility."
Ventev Wireless Infrastructure has introduced an access point enclosure that can ensure crucial Wi-Fi/WLAN connectivity in freezer rooms that are common in the food industry. Sensitive indoor wireless access points must be protected from cold, condensation and frost. Thick walls and heavy insulation make wiring for AC power expensive and time-consuming.
A heated enclosure is designed specifically for use in continuously cold environments. A single Power over Ethernet (PoE) cable powers both the access point and the heater. Since no AC is needed, installation is easier and less expensive. The NEMA 4X-rated, waterproof 12"x10"x 6" polycarbonate enclosure features latch locks, clear door, surge protectors, and an optional integrated or external antenna to increase network coverage.
Natural CO2 Refrigeration
Hillphoenix, which designs environmentally sustainable refrigeration systems for retail environments, has introduced its AdvansorFlex CO2 refrigeration system to provide the benefits of natural CO2 refrigeration in a compact and scalable retail format.
The HFC-free system uses non-toxic, non-flammable CO2 as its only refrigerant. Both Advansor CO2 and AdvansorFlex CO2 are part of Hillphoenix's Second Nature line of alternative refrigeration systems. Because it relies solely on plentiful, all-natural CO2, AdvansorFlex is Department of Energy and Environmental Protection Agency compliant and exempt from future legislation and taxation.
A single AdvansorFlex unit can serve as a centralized refrigeration system in convenience stores and smaller format grocery stores. The unit's weatherproof enclosure allows for both inside and outdoor placement, and its compact footprint takes up less floor space in back rooms, equipment rooms, mezzanines and rooftops.
Cold Chain Monitoring
Sensaphone has upgraded its monitoring system for freezers and refrigerators with a new keypad display and enhanced audio output. The system provides 24/7 remote monitoring of environmental conditions and unattended commercial freezers and refrigerators.
The Sensaphone 1800 system detects problems such as temperature changes (from -109 °F to 168 °F), humidity fluctuations, water leaks, power failure, carbon monoxide and carbon dioxide levels and smoke. When the system identifies a potential issue, it can immediately alert up to eight people with custom phone calls, allowing personnel to quickly address the situation.
The internal rechargeable battery backup provides 24 hours of continuous monitoring and alerts in the event of a power outage. Operators can obtain the status of each monitored condition at the installation site or remotely by telephone. The 1800 system is easy to install and operate, but if assistance is needed, free technical support is available.
Telematics Innovation Continues
Telematics continues to play a big role in monitoring temperature of food in transit.
Carrier Transicold recently announced it will offer a customized telematics solution that will deliver advanced capabilities for its transport refrigeration units (TRUs). The new telematics solution will help fleets manage refrigerated assets by enabling remote refrigeration unit monitoring, control and diagnostics, data management and other value-added capabilities.
Carrier Transicold tapped ORBCOMM Inc., a global provider of machine-to-machine and Internet of Things solutions, to develop the system according to design and qualification requirements Carrier Transicold specified.
"We launched this initiative in response to customer demand for an original equipment manufacturer-provided system for TRUs," says David Appel, president, Carrier Transicold & Refrigeration Systems. "The system can be factory-installed and will be supported by our authorized dealer network. Orbcomm's experience with remote monitoring and control solutions for mobile assets complements our expertise in transport refrigeration systems. Its expansive satellite and cellular capabilities provide the scale needed to support Carrier Transicold TRUs."
Tiger Cool Express uses the iBright telematics solution from International Telematics.
"We have a fairly sophisticated suite of telematics," says Tom Finkbiner, CEO at Tiger Cool Express. "You can get a printout of what the internal temperature was during the whole trip. We measure return air. We measure the air temperature out of the reefer. We measure temperature on the box. We also have a pulping thermometer in each container."
"If you're shipping fresh fruit, you can measure the internal temperature of the fruit," Finkbiner says. "If you're shipping pallets, you can put a pulping thermometer in the middle of a pallet and measure the pallet temperature."
Insulated Containers Have a Niche
Foodservice operators, as well as ice cream and frozen novelty producers and distributors, rely on insulated containers to maintain frozen temperatures on route without reliance on temperature control transport, says Marianne Hoonakker-Kelly, global market manager at Sonoco Thermosafe.
Sonoco Thermosafe's load models in combination with frozen gel bottles or dry ice maintain product quality by holding product less than 25 degrees F. Ice cream specifically is able to be kept between -5 to -20 degrees F, which is critical to preserve product quality. The higher the fat content, the more important it becomes to ensure that the product remains at the required temperature, otherwise the product runs the risk of ice crystals developing. Even with multiple door openings, ThermoSafe test results demonstrate frozen temperature protection up to 48 hours.
Insulated Doors Save Energy
Insulated doors are allowing companies to maintain temperatures with less energy.
Golden State Foods (GSF), a food distributor to quick-serve restaurants, has deployed Rytec Turbo-Seal insulated doors at its new 152,670 square-foot regional headquarters and logistics center in McCook Ill. to ensure that every doorway is ready to handle their high volume, 24/7 traffic.
The doors are accessed in the fresh food cooler via three Rytec Turbo-Seal self-repairing doors. "If the door is down, or won't come down, that could be detrimental to our operation," says warehouse manager Jamie Marines. "We cannot afford to lose an opening."
The doors' high speed and the tight, full perimeter tight seal minimize air infiltration, while the Turbo-Seal insulated door's thick panel reduces heat transmission. This combination helps the facility save 40 percent of energy and reduce operating time on the refrigeration system for longer system life as well.
Marines points out that if one door goes down, they lose 30 percent of their shipping capacity. With tight schedules and so many McDonald's restaurants depending on them, this downtime can't be allowed.
"That's why we like the doors' durability," says Marines. "We are hard on things."
Henry's Foods has also installed Rite Hite doors which act as a barrier and saves energy. "They're a clean breakaway," Koep says. "If somebody runs into them, whether it be a forklift, tugger, or if somebody needs to get through the door and if for some reason it doesn't open, they can push the door open and it self-feeds it back into the track," he says. The company has installed five of these doors in its warehouse.
"They're just a lot more dependable," Koep says. "I've got well over a million cycles (openings) on them. They just work better than anything else I've used."
Ceiling Fans Stabilize Temperature
A growing number of decision-makers are implementing high-volume, low-speed (HVLS) ceiling fans into their facilities to circulate air in work environments and provide stable temperatures from ceiling to floor.
HVLS ceiling fans mitigate the rising heat effect by moving the warm air near the ceiling back down toward the floor where it is needed, according to Andy Olson, Rite Hite product manager for fans. The air reaches the floor below the fan where it then moves horizontally a few feet above the floor. The air eventually rises to the ceiling where it is cycled downward again. This mixing effect, known as "destratification," creates a more uniform air temperature. With the use of an HVLS fan, there is less of a burden on the heating system.
Blulog, a cold chain startup, has launched near field communication (NFC) temperature data loggers that enable full temperature traceability during the transport of temperature-sensitive products. Upon arrival of the package, a diode (that can be personalized) indicates immediately if the cold chain has been breached. The user, equipped with an Android smartphone with the NFC technology, has direct access to all historical shipments with associated temperature, GPS and logistics data.
It is now possible to automatically upload information to the cloud, allowing the sender to immediately receive a proof of delivery and good temperature maintenance. The recipient can also receive the PDF report directly on his phone.
With global trade increasing and the demand for fresh food on the rise, logistics providers such as DHL Global Forwarding play a critical role in the global economy.
DHL Global Forwarding has a strong foothold in the perishables market across Latin America and maintains a dedicated team of specialists to manage ocean and air freight for perishable goods. The team manages perishables, including fish and fruit, from Latin America. It procures space and rates for the freight to a wide range of destinations, receives the cargo, and manages the customs clearances and transportation, ensuring that the products will remain within their required temperature ranges.
The global perishable market is growing by around 7 percent annually. Trade infrastructure is expanding in all global regions.
"The amount of perishables is increasing," says Roland Zach, head of global charter at DHL Global Forwarding and vice president of StarBroker, an in-house charter air service. The global expansion is due to increased demand for fresh products all year long, and thanks to a lifting of restrictions in various countries. "Up until a few years ago, you couldn't send Chilean blueberries to Korea, for example," he says. "Trade agreements, as well as improved uplift and local infrastructure, have opened a whole new market for our customers in Latin America."
Miami, Fla. is a global center for perishables, largely because of its proximity to Latin America, where many seasonal foods are being grown. Miami is also home to a large number of dedicated customs brokers and transportation companies with reefers and airline cooler facilities, Zach says. About 60 percent of the fruit shipments DHL handles through Miami stay in the U.S., with the balance moving on to other global destinations in Asia and Europe.
"The Brazilian perishable goods producers have competitiveness in the international market, especially now with $1 priced at around R$3.50," says Mauricio Coelho, head of air products. DHL makes daily flights to the United States and Europe. The perishable goods are packed in air pallets and kept under controlled temperature.
Air transport is mainly for fresh versus frozen perishable food. The air transport supplements the ocean transport, which handles the larger volumes. The fruit the company handles from Argentina and Chile is moved on commercial air carriers supplement by DHL's exclusive, dedicated charter flights. These flights operate for a period of five weeks, each from Argentina and Chile during the last quarter of the year every October and November, subject to fruit readiness.
Exporters use ocean freight as soon as possible, but the ocean freight takes more time to reach its destination.
Most perishable product flies on passenger flights. Freight gets delivered on a reefer truck to the airport, gets off-loaded into a cooler, then placed on aircraft pallets inside the cooler. The pallets get loaded onto a dolly and taken to the aircraft. When the cargo reaches its destination, it goes back into a cooler.
At present, there is an overcapacity of air freight caused by the expansion of passenger flights, Zach notes. "That creates a lot of belly space," Zach says. About 60 to 70 percent of air cargo fits into the belly space lower deck, the area beneath the passenger section that also holds the luggage. The balance of the air cargo is moved by commercial freighter operators as well as seasonal full charter flights.