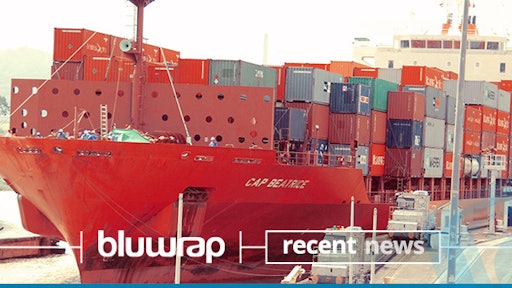 BluWrap, the technology company that naturally extends the shelf life of fresh proteins, has completed the first-ever shipment of fresh salmon from Chile into the port of Tianjin, China, the largest port city in Northern China, and the major maritime gateway to Beijing.
BluWrap provides a ground-breaking approach to shipping seafood that can significantly transform China's dependence on airfreighted fresh and frozen seafood. BluWrap's technology is a strategic advantage to countries like China because it ensures food security from remote food sources while considerably reducing carbon emissions and the use of polystyrene.
BluWrap partnered with Tianjin PuWan International and worked closely with the Tianjin port cold chain, as well as Salmones Aysen who supplied the salmon for the shipment.
"Tianjin has shown great courage in being the first to use this new technology to bring fresh food by sea into the port. Tianjin is living up to the Chinese expression 'who will be the first to eat crab?' – a saying that questions who has the mettle to try something new," said Mark Barnekow, chief executive officer of BluWrap. "With the successful completion of this pilot, we can move forward with our plans to send regular shipments of seafood from Chile to China and expand the availability and variety of fresh proteins to customers in the Northern region of the country."
"Air freight is very expensive and fraught with logistical challenges when shipping from Chile to China," said Pablo Cajtak, chief executive officer of Salmones Aysen in Santiago, Chile. "China is a rapidly growing and important market for Salmones Aysen and all Chilean salmon producers. BluWrap is a very good logistics solution that makes sense if we want to reach consumers there."