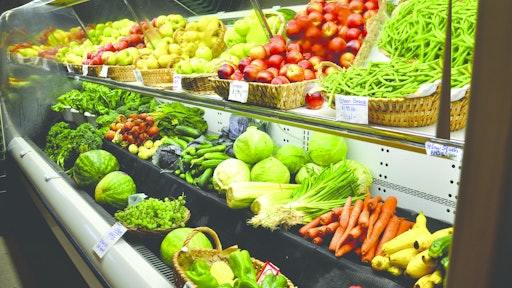 The recession has forced grocery shoppers in the U.S. to place an even greater emphasis on price and value. Therefore, private label brands have become more popular over the past four years, as have discount grocers and club stores. Yet, access to high quality produce and a great selection of fresh food continue to rank high on consumer surveys.
Consumer trends and regulatory crackdowns
In the U.S., the fresh produce industry is valued at $100 billion and growing. More healthy eating habits along with Americans' desire for fresh fruits and vegetables year-round are big drivers.
At the same time, emerging markets in Asia, Latin America, Eastern Europe and the Middle East and Africa are adopting Westernized palates, which means more fresh (and frozen) food is being transported, oftentimes over great distances. The easing of trade restrictions and the formation of new free trade pacts is also expanding fresh food imports and exports.
Not surprisingly, longer transit time and distance puts more pressure on fresh food shippers and transportation providers. Profit margins in the food sector in general are already relatively thin, which means it's imperative to avoid any com- promises to temperature or proper handling that can lead to shorter shelf life or complete spoilage altogether.
More advanced refrigerated equipment, storage, and software and technology tools that continually monitor temperature and environment make it possible to support a global supply chain for fresh food. However, there are some glaring weak links in this chain, which are mostly related to cutting corners as opposed to lack of adequate equipment.
Last year, Indiana's state police began cracking down on hot trucks—refrigerated trucks that transport food in trailers whose temperature exceeds safe limits. The crackdown made national headlines because of the sheer number of refrigerated shipments that were non- compliant. An unusually warm summer exacerbated by steep fuel prices were partly to blame for the high number of hot trucks snagged in the crackdown, according to the state's law enforcement and public safety officials.
Recently, Indiana implemented stiffer laws that give state police authority to impound trucks that transport food in unsafe conditions and levy steep fines on drivers. The state now boasts some of the strictest food transportation laws in the nation.
In California, tougher rules governing refrigerated trailers, which came into effect on January 1, also have steep fines attached for non-compliance. For example, soon after the new regulation was implemented, the California Air Resources Board (CARB) fined Ontario, California-based Foster Enterprises $300,000 for failing to upgrade its diesel engines on its refrigerated trailer fleet to meet the new emissions standards.
Meanwhile, the Food Safety Modernization Act (FSMA) is also ratcheting up regulations—and fines—surrounding refrigerated transportation of food as it continues its phase-in.
Advances in equipment and technology
For shippers not willing to sacrifice food safety, the good news is that the latest equipment and technology is making it easier, safer, more environmentally friendly, and even cheaper in some cases to transport fresh and frozen food.
Manufacturers of refrigeration units along with manufacturers of refrigerated containers and trailers are constantly improving their products, from the design and engineering of the cooling units to the insulating ability and performance of the containers and trailers. In addition, other companies are introducing new software and technology to monitor and control temperature and environment.
Indeed, the market for cold chain monitoring tools has plenty of room to grow, according to Tom Chicoine, vice president of business development for Cooltrax.
"Approximately 500,000 trailer refrigeration units operate across the United States, but only an estimated 15 percent of these vehicles operate with on-board telematics technology," he states in a recent white paper. "Companies operatng trucks without this technology deny their fleet managers the ability to monitor reefer unit and refrigerated box temperatures, or to be alerted to truck locations and open-door durations. Fleet managers also lack the ability to remotely change reefer settings when necessary. Having these capabilities allows transportation firms to react when temperatures fall outside of accepted ranges—whether based on government regulations or internal requirements. More importantly, having these capabilities can help companies avoid catastrophic consequences."
While remote monitoring devices have been available for years, telematics technology that allows for remote management of temperature and environment is still relatively new, notes Chicoine.
Telematics technology can zero in on other problems in the cold chain, he says. "One food transportation company discovered that some drivers left the doors open from their arrival until their departure at each delivery location—often for 20 minutes or more. The company instituted a policy requiring drivers to close their trailer doors immediately after removing products. Not only did this new SOP (standard operating procedure) ensure product temperatures remained consistent, with telematics, the company was able to monitor drivers."
For companies looking to invest in telematics technology, Chicoine advises considering solutions "that extract as much data as possible through alerts, fault codes, temperature set points, door open/close statuses, and geo-zone tracking. The data can serve as the ultimate proof of your company's ability to properly care for food and adhere to regulations."
In the meantime, containerized ocean carriers are transporting more refrigerated cargo while the specialized reefer carriers are losing market share, and they're investing in equipment and technology to support this key business segment.
For example, Hamburg Sud says it aims to achieve a 15 percent reduction in energy consumption from its reefer containers by 2015, with the newest reefer containers expected to save up to 20 percent in energy consumption. The box carrier says its new reefers will use inverter technology to produce cooling power only when it's needed, making it more energy efficient and cost effective.
Battery technology is also advancing. Last month, Emerald Technology Partners and EnerDel announced they would work together to develop EnerDel's lithiumion battery for commercialization with Emerald's WedWay Zero-Emission Refrigeration Power System.
The system uses kinetic energy produced by a semi-trailer's rotating wheels to produce power, which is stored in the lithium-ion battery and used to run the refrigeration or freezer unit of the semi-trailer when it is stationary anywhere from 12 to 24 hours. It also allows for the removal of a dedicated fuel system, which reduces the weight of the semi-trailer and makes it possible to carry more cargo. Emerald estimates that the system could save "tens of billions of dollars annually once the majority of owner/operator and corporate fleets employ the technology."
ASNs Pick Up the Pace for Supply Chains
By Jeff Stout
The advance ship notice (ASN) is essentially an electronic communication from a vendor or supplier to its customer advising them that a shipment has been created against a purchase order (P.O.) with specific item(s) and quantities. At shipment level, an ASN can provide basic information about the order. More advanced ASNs can offer detailed information via case/pallet level license plate identification, which can be imbedded to include data elements such as end customer/ store, lot numbers, expiration dates, catch weight and even country of origin/ pedigree information. This visibility can be extremely valuable and provides the key to unlock the handcuffs on your supply chain. In order to fully under- stand the power of the ASN, let's take a look back.
Many retailers have been utilizing ASNs and ASN compliance with their vendors for more than 20 years and they have come to fully appreciate their value. For example, a large department store will require an apparel supplier to do a "ship to/mark for", meaning that the ASN label on that carton already earmarks the contents for a specific store location. Once it arrives at the distribution center that carton will be cross-docked directly to the targeted store without being opened, reducing handling and transit time to the selling floor. Another method is for the cartons to be pre-packed with an assortment that is defined at the ASN level. These cartons are then scanned at receipt and systemically directed to an associated store location thus eliminating the need to put-away, replenish and pick the products, reducing labor and increasing the speed of processing.
However, grocery retailers have been slow to adopt detail level ASNs. It could be due to the typical "pull" environment where the store locations order the required inventory, which creates the store order that is provided to the operations of the grocery DC, versus the "push" environment of other retailers where POS feeds a replenishment system that creates the orders. So it may seem on the surface that ASNs and flow-through distribution won't work in the grocery supply chain.
But some supermarket chains are seeing the light. For example, one Manhattan Associates customer, Giant Eagle, employs ASNs with Manhattan's Warehouse and Distribution Management solutions, utilizing "put to store" functionality for virtually all their fresh items. With those vendor supplied ASNs, they're not having to put away, replenish or pick it, saving a day or two of shelf life by reducing turnaround time at the warehouse. Stores can offer fresher produce and reduce waste from spoilage. In an environment where consumers demand more fresh, healthy selections, even an extra day of shelf life can make a big impact on any grocer's bottom line.
That's the power of the ASN—enabling flow-through/cross-dock distribution to drive efficiency from the guard shack to the store. But in order to understand how ASNs can streamline your distribution, we need to take a closer look at your typical supermarket DC, beginning with the guard shack operation.
When a truck driver arrives at a typical facility, he presents someone in the guard shack his paperwork, usually a packing slip or a manifest. That employee goes back into the guard shack and keys in the information to determine if this is a valid delivery and if the driver has an appointment. The guard shack employee has to look at the paperwork, assume it's accurate, and decide, or call, to determine what door it should be unloaded at to get it closer to where it's going to be put away for receiving. This results in a line of trailers backing up, day in, day out. Meanwhile, the clock is ticking, especially on those fresh items.
Once the delivery has been directed to its door for unloading it willneed to be received. The check-in process can be labor intensive and detail oriented. In most operations, check-in requires that quantities, lot numbers, expiration dates and many other criteria be manually captured at the time of receiving in order to be tracked throughout its lifecycle. This information is then entered into the system of record and updated prior to any release of outbound orders for fulfillment.
If you have outdated systems in your distribution operation, you may have to receive, put away, then in many cases wait for an overnight process to update the host systems. Distribution can't even begin until the next day, so already you've added a day to processing time within your DC. Another day to process, pull and ship to stores and you've lost about two days of shelf life. If you think you can implement flow-through in that kind of environment— dream on.
Now, let's imagine your grocery operation with fully optimized distribution technology in place. Your vendor generates an ASN for your order, detailing quantities, lot numbers, even expiration dates—giving you complete visibility of what's on that truck headed to your DC down to the item level. And because that ASN can drive online appointment scheduling, your system can start prioritizing and slotting loads while that truck is still on the road.
So when that driver pulls up to your guard shack and presents that ASN, the data is scanned and input into your system so fast he doesn't even need to get out the truck. You send him straight to a designated door because you've already prioritized when you want to unload it and how you want to unload it.
Granted, cross-dock is difficult to do with most palleted staples such as canned goods. But, a pallet of bottled water? Most stores can sell that amount fairly quickly. ASNs make that commodity an ideal candidate for cross-dock.
The other items can be processed utilizing flow-through where the received pallets are directed to a put-to-store area where the cases are broken down from each pallet and store pallets are built based on the case level allocations.
When you enable flow technology, you reduce travel in the DC. The ability to move fresh and even seasonal items to your stores in less time can make a huge difference to your already razor thin margins.
Another trend we are beginning to see with retailers is the requirement of an ASN for all store level shipments both within their network and vendor direct deliveries. This provides the ability to leverage the same advantages?for the store locations including appointment scheduling, improved visibility and streamlined receiving. Furthermore, many companies are using this functionality for store returns going back to the distribution center. This greatly reduces the time and labor required to receive, process and disposition the return items improving both throughput and turns.
The vast majority of vendors today have the capabilities to create detailed ASNs. In fact, Wal-Mart and other mass retailers require it of their suppliers. All you need to do is ask. Vendor compliance capabilities are key to Manhattan Associates' solutions. For example, our Extended Enterprise Management (EEM) solution allows you to measure vendor performance as well as the accuracy of their ASNs. EEM even enables you to be proactive with your smaller vendors by providing them a secure log in to create ASNs and print out labels for the goods they ship to you. Now you can source wherever you want to. Even a small farm can provide ASNs for fresh local produce that can be showcased in your stores—all they need is Internet access and a printer.
All of this can happen because of the ASN—the visibility, the paperless operation, the flow-through—the efficiencies are tangible and the bottom line savings are real. When you can increase your turns and get inventory out to
Jeff Stout is a solutions architect for Manhattan Associates, online at www.manh.com.