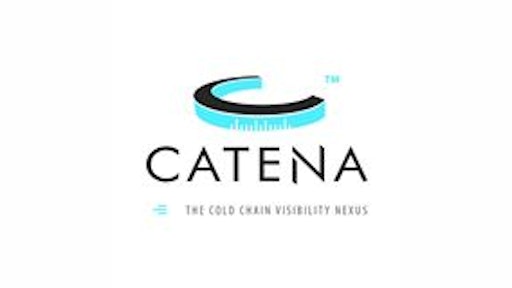 CATENA INC., an emerging leader in cold chain visibility and data aggregation technology, today announced it has entered into a strategic partnership with Intelsius, a subsidiary of DGP Life Science Ltd. Under the agreement, Intelsius will resell CATENA's proprietary software solution and use CATENA's professional services to provide intelligent cold chain visibility services to its global client base. This partnership will strengthen and enhance both companies' abilities to deliver high-end products, strategic technology solutions and professional services to the life sciences marketplace.
"CATENA's breakthrough technology provides true supply chain visibility, analytics and data visualization in a single platform for producers as they move their goods through the supply chain," said Alberto Marzan, founder and CEO of CATENA INC. "It was an easy choice for us to build a strategic partnership with Intelsius because of its global reputation to drive innovation, quality products and commitment to its clients."
"Intelsius is a forward-thinking company that strives to be at the forefront of innovation. This partnership highlights our commitment to collaborative partnerships that drive change and move the industry forward," said Steve Healy, Intelsius' director of global sales. "I believe this collaboration offers our customers access to a solution that will enable them to drive out unwanted costs, whilst maintaining the integrity of the precious cargo being carried. CATENA brings together data from its leading suppliers within the distribution supply chain and provides key information to customers, which enables them to make smart, informed decisions."
According to 2011 data from EPCglobal, perishable suppliers ship more than five billion pallets of chilled meats, seafood, cheese, produce and temperature-sensitive pharmaceutical and bio-medical products valued at $2.6 trillion every year. This cold chain transportation marketplace is fragmented, with many different information systems and solutions and little to no common ground between them to enable seamless tracking and monitoring of goods. As a result, transportation providers have great difficulty fulfilling delivery requirements, and suppliers aren't able to track their shipments with the level of detail they need to ensure their shipments arrive intact and in compliance with handling standards. In the food cold chain alone, $35 billion worth of goods are discarded due to temperature loss and other compliance intrusions during the supply chain journey.
CATENA's proprietary technology ecosystem solves these problems by delivering the ability for everyone in the supply chain to have a synergistic, unified view of these goods from their point of origin to their final destination. Users are able to:
Increase cold chain optimization so that perishable goods arrive at their destinations safer and more efficiently;
Increase product quality by reducing spoilage and loss;
Reduce insurance costs, liability and product loss;
Increase customer satisfaction for producers by providing them peace of mind and visibility to the whereabouts and status of their products;
Ensure compliance to standards, and provide an archive of monitoring data.
In addition, CATENA's professional services group provides strategic consulting and direction across all supply chain segments, including producers, manufacturers, retailers and domestic and foreign providers. The team can help life sciences organizations plan and manage pharmaceutical and medical product development programs, devising ways to overcome obstacles, ensure regulatory compliance and accelerate industry imperatives to get products to market faster and smarter. The group also works with food and beverage clients, delivering FSMA strategic planning and compliance, operational risk management, reputational risk management and regulatory risk services with the goal of achieving brand protection.