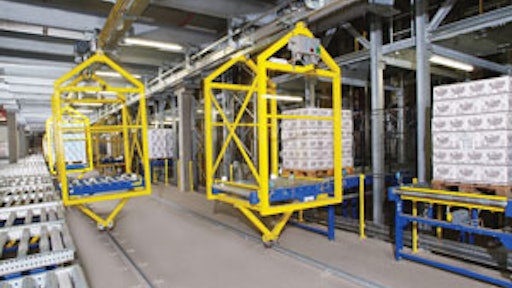 Food manufacturers and retailers have been using automated storage and retrieval systems (AS/RS) in frozen and refrigerated environments for a number of years now to speed-up storage and retrieval times, as well as limit the amount of time that employees have to spend in hostile environments.
As labor and medical costs grow more expensive, an increasing number of food companies have been exploring different methods for storing and retrieving product intemperature-controlled facilities that are more suited to their style of production, their customer base, or the pace at which their businesses operate.
Here's a look at some of those companies.
SSI Schafer/Campina
German-based SSI Schafer is a total solutions provider and components manufacturer of high quality product handling systems for the food distribution industry. In cooperation with a Belgian planning agency, Schafer prepared an overall logistics concept for the construction of an 11 aisle high bay warehouse, some 120 feet high, for the international dairy company Campina, a dairy cooperative that maintains a high volume output.
"Dealing with volume is a big issue in a dairy plant where you have this type of throughput. Handling it with automation is a big challenge," says Rob Schmit, vice president/managing director of the automation and systems division at SSI Schafer. "Therefore, we needed to select a way to handle all those pallets in parallel."
In addition to the volume issue, Campina was confronted with the challenge of adding to an existing environment-the production facilities already in the building.
"Trying to find out how to integrate the logistics of the manufacturing line into a single point of entry to the warehouse is a very big challenge," Schmidt says. "And because of all of the issues that are involved, selecting the right technologies became key to the project's success."
The logistical choreography goes like this: full pallets of dairy product continuously come out of the filling machines, which are located next door to the high bay storage facility. These are spirited away from the production lines via an electro trolley system, to a storage system of 11 cranes with telescoping forks that allow for double-deep storage. All of the cranes are working simultaneously, putting away as well as selecting pallets. Schmidt says that each of the 11 cranes handles about 31 pallets in-and-out each hour-a total of 350 pallets.
"That's equivalent to 10 trucks per hour that we can load and unload."
Inside the partly temperature-controlled high bay warehouse, there are over 25,000 storage locations in the high bay for two different pallet standards, as well as three different height classes.
Outgoing pallets of goods are picked by the cranes and conveyed by an overhead electric conveyor to gravity lanes, which deliver the pallets to within 10 feet of the shipping doors. Loading is done by small forklift truck.
FKI Logistex/Innovative Cold Storage Enterprises Inc.
"Innovative Cold Storage came to us about two years ago. They were looking to compare us with the traditional turret truck solution for a new building they were constructing in San Diego," explains Percy May, director of crane sales for FKI Logistex, Northamptonshire, UK, a global provider of automated material handling solutions.
Innovative is a public freezer warehouse. According to May, that means their customer base-which maintains varying pallet sizes and load heights-changes a lot, so they need to keep their site as flexible as possible. This means incorporating manual operations into the storing and retrieving operations. In addition, today's freezer warehouses are being built higher, up to 50 feet or more in height, to save on a warehouse's physical footprint as well as its carbon footprint-compact, taller buildings are easier to insulate.
"However, the higher you go in a system, the lighter the load becomes that you can store with that machine," says May. "That's no good to a public warehousing company. They've got to be able to store the same style of pallet in any position in the racks. They have to have maximum flexibility."
With this in mind, the company decided to use FKI's Condor crane system in its facilities. The Condor, used for pallet and case pick operations, is a floor-running manual/automatic crane that is operated by an employee who sits in a fully-enclosed heated cabin. It features dependable, in-aisle top and bottom guidance, which allows it to work at higher operating speeds. The heated cabin makes it possible for the operator to spend protracted amounts of time in an otherwise unbearable environment.
"You can work all day in there if you have to," says May. He says the use of heated crane cabins by FKI's other clients has allowed them to hold onto freezer workers much longer than the industry average turnover rate, which is quite fast.
Innovative is going to use six of the Condor cranes for pallet storage and retrieval in its 50-foot-high racking system. The space will include an area at the front of the racks that's used for maneuvering the feeder trucks that drop the pallets in the aisles. The Condor operator will pick up a pallet, rotate it into an empty slot and then scan the slot label, which records the position of the pallet onto his handheld.
On the retrieval end of the equation, the operator will use his pick list to see where he has to go and bring the pallets down to floor level, where they will be taken away by fork lift to the shipping dock.
Daifuku/Yili Industrial Group Co. Ltd.
It is no surprise that the Chinese economy has been booming over the last decade and, according to experts, when societies become affluent, their populations consume more milk. As a result, the demand for dairy products has also been escalating.
In order to increase production capacity and achieve a faster supply chain system, dairy producer Yili Industrial Group Co. Ltd. recently built the most advanced milk processing plant and distribution center in Asia thus far, inside its main factory premises located in Huhhot, the capital city of Inner Mongolia, China. At the facility, Yili produces milk, butter, cheese and powdered milk. The new facility now includes high-capacity production systems as well as an AS/RS system installed by Daifuku, a Japan-based provider of automated material handling solutions.
The DC was outfitted with Daifuku's Unit Load AS/RS Rack-Supported Building System (RB), which features 21,024 pallet-storing positions, as well as 11 cranes to access the pallets. The factory is producing approximately 1,500 tons of fresh milk daily through 18 production lines. The processed milk is poured into paper cartons and then transported to the packing line in the DC via conveyors.
From there, three palletizing robots stack cartons onto pallets, which are delivered to the temperature-controlled AS/RS system by a loop-type high speed Sorting Transfer Vehicle (STV). There are eight units. Each has a transport capacity of 247 pallets/hour.
When it's time for the product to ship out, another STV transports the pallets to the shipping area. According to Daifuku, the daily volume of product shipped out is roughly 2,000 tons. Thanks to the cutting edge technology at play, no manual handling is involved, from production, to packing, to shipping, thus removing operator involvement and temperature-related discomfort from the process.