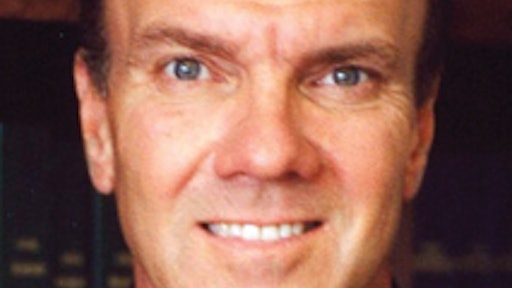 For years, operating public refrigerated warehouses (PRWs) was a routine and stable business. It was a model based on full pallet storage and moves in and out of the facility.
But times have changed. Rising fuel and energy costs make refrigerated/frozen warehouses expensive to operate for many food retailers and manufacturers who are also being challenged by shorter time-to-market cycles. As a result, they are turning to PRWs and demanding more services.
"It is no longer just storage," states Bill Hudson, president of the International Association of Refrigerated Warehouses (IARW), Alexandria, VA.
So the good news is that the market is very strong for quality warehouse facilities that offer value-added services including case picking/order assembly and freight consolidation and distribution. Experts say the current market also demands services such as inventory tracking, recall efforts, exporting and transportation services throughout the cold supply chain. Customers today are simply looking for and expecting PRWs to offer more.
The bad news is that those who won't or are unable to provide extra services may—ironically—be left out in the cold. "I am seeing companies push things to the warehouse that were previously thought of as a manufacturing duty such as blending three boxes into a combined mix," says Jack Ampuja, president of Supply Chain Optimizers in Buffalo, NY. "Now they are getting the warehouse to do it right in the freezer."
Ampuja adds that the big problem PRWs must get over is their reluctance to introduce new concepts and merely look for the customer or manufacturer to offer ideas. Manufacturers, on the other hand, often complain that PRWs do not do enough for the money.
For their part, PRWs are indeed picking up the pace and providing new services. For example, services today through Interstate Warehousing/Tippmann Group, Fort Wayne, IN, include order fulfillment and shipping within eight hours from receipt of order, in-house continuous replenishment services for more than 60 percent of customers and product freight consolidation services.
"Shipper load and count has become more of a standard in the industry, yet we have less customer service reps than we did just a few years ago," says Steve Tippmann, executive vice president." Our WMS manages most of our customer requested reporting and information in real time, making fax machines a thing of the past."
What's Prompting Change?
A move towards the new PRW has been occurring for the last decade and has really picked up steam in recent years. Due to industry growth as well as the short shelf life of products, more effective inventory control is required. Factors such as high service levels, lower cost, faster inventory turns, quicker reporting and the ability to provide customers with faster and more efficient service have also prompted change.
The push for change also comes from the consumer. Discount retailers such as Wal-Mart have become very popular with consumers and this has resonated down to the PRW level. To compete, everyone in the supply chain must drive costs down using their innovation and creativity.
"Cost cutting is a factor," acknowledges Ampuja. "But it is also defining who you are. A manufacturer doesn't necessarily know how to run a warehouse. Companies are now starting to realize their core competencies, and thus their need to delegate to experts. But it all comes down to cost control. They want someone to do the task for less money."
Additionally, the frozen and refrigerated food categories for both the retail and foodservice industries are growing rapidly.
Organic and natural food have already grown over 20 percent in the last few years and are poised to make a grand entrance into the frozen and refrigerated foods section of the supermarket. A manufacturer doesn't necessarily know how to run a warehouse.
"Retailers are looking to increase their turns and that goes back on manufacturers, changing our mix on what we do," says Tony Lucarelli, executive vice president of Henningsen Cold Storage Co. in Hillsboro, OR. "We see higher inventory turns now than in the past and that is driven by retailers wanting to keep less product in their DC. For example, many vegetables are harvested during a particular three-month season and the inventory needs to be stored in bulk the whole year. Companies are getting that inventory in and out every few weeks now."
New Demands
What are the new demands from customers today? Lower cost, more efficient means of information flow and better service, along with enhanced food safety and security, according to Tippmann of Interstate Warehousing.
"Flexibility and great communication in everything we do," adds Andrew Janson, executive vice president of business development for Hanson Logistics, St. Joseph, MI. "We are being asked to provide transportation solutions into our facilities and then on to our customers. Freight consolidation is at the top of the list. We are answering this call by expanding our services into the Chicago market with the addition of a new 'best in class' consolidation center."
At U.S. Cold Storage in Cherry Hill, NJ, Jerome Scherer, vice president of national sales, marketing and government affairs, says customers are asking for fully integrated warehouse and transportation services supported by online visibility for inventory and order flow information, highly accurate and timely order fill and delivery and partnership relationships.
USCS operates 30 full service facilities consisting of nearly 130 million cubic feet of refrigerated warehouse space. It offers a wide range of cold storage services that incorporate RF scanning, transportation management and integrated logistics supported by eUSCOLD online services for real time information access and order placement.
PRWs Step Up
"We are looking to expand across the U.S.," says Lucarelli of Henningsen Cold Storage. "We now have eight facilities: five in the West, two in the Midwest and one in the Northeast. Historically, we've been a manufacturing support company, locating our facilities next to theirs. Our PRWs in Oregon and Washington provide both manufacturer's support and distribution services."
Interstate Warehousing/Tippmann Group is upgrading its warehouse management system after spending two years evaluating WMS systems world-wide, leading to selecting Red Prairie as its provider. "We have implemented it in three out of 12 locations, with complete conversion planned in 24 months," says Tippmann. "Not only has our WMS reduced office and warehouse labor, it has enhanced our accuracy and customer satisfaction."
Janson of Hanson Logistics credits the success of his company and its customers to his employees. "We strive to hire the best teammates we can find, and continuously train and work to retain them with an excellent compensation/benefits package," he reports. "Our business is a people business. Our teammates are our most important assets. Technology is improving all of the time. We are doing our constantly working to stay up to date with the most proven technology available as well as continue to expand our transportation service offerings to meet our specific customer needs."
Scherer of USCS says his company has been doing the following:
Expansion of existing facilities to meet growing customer needs;
Modification of facility designs from bulk warehousing to order pick/distribution racking and layouts;
Construction of "greenfield" facilities in new geographic areas to expand national distribution capabilities on behalf of existing and new customers;
Complete redevelopment of IT systems to integrate services;
Nationwide RF bar code system implementation for WMS;
Use of voice recognition technology for warehouse operations;
Adaptation of Internet-based customer service applications and full implementation;
Adaptation toward paperless systems;
Expansion of services to include cross docking, trans-loading and short hold storage;
Just-in-time programs for raw material supply to manufacturers;
Development of billing systems for variable storage periods and SKU level rating;
Development and implementation of USCS TMS for effective transportation management;
Retrofit of existing facilities and redesign of newly constructed facilities with energy efficient equipment and materials;
RFID services development.
"We are offering a fully functional end–to-end RFID distribution center," Scherer says. "The technology incorporates label applicators, conveyors, readers, testing devices; WMS links and a variety of middleware linked to support live customers and test scenarios in RFID technology. We are selecting multiple SKU orders from inventory that require RFID tags. We are writing the tags, applying the tags, testing the tags and shipping the orders with ASN confirmations via EDI to the shipper and to the consignee."
Looking Ahead
Progressive companies are planning to meet the challenges coming up, such as food safety and security at the forefront. For some PRWs, facets of warehousing that will be universally employed include order fulfillment, case picking and cross docking.
Tippmann of Interstate Warehousing/Tippmann Group sees, "taller warehouse facilities, which reduce capital and operating cost, a more expensive real estate market that demands better site utilization and tight labor markets that will open the door for more automation in public warehousing."
The specialized arena of providing PRW services will become even more complex and therefore even more specialized in the future, according to Scherer of USCS. "The huge increase in the number of SKUs handled and stored combined with the high rate of product turn will challenge the best to perform at a high service level consistently. In addition, security issues, governmental regulations, labor availability and higher energy costs make for a tricky business environment, especially in light of corporate America's laser focus on lowering logistics costs."
Hudson of IARW tells the story of ConAgra which built a DC, but then discontinued several lines of product. Since it didn't need much of its DC, ConAgra sold it to a PRW. "So it is better to use a flexible network of PRWs that is established," he says. "PRWs are in demand because of their flexibility and wide array of services."
Ampuja agrees with the prediction of flexibility on the part of PRWs in the future. "Third-party logistics is growing very fast and is out-striping what the economy is doing," he says. ""PRWs will offer more services like increased trucking and drop-trailer service. There's no limit to what they can do."