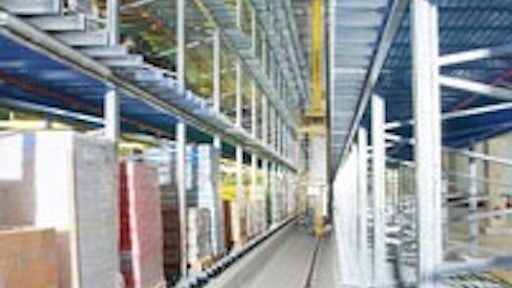 Warehouse worker salaries have steadily been on the rise in the last few years, especially in cold storage operations, where it is often difficult to find employees willing to work in sub-zero temperatures.
Turnover in those jobs can hit as high as 40 percent, depending on the time of the year. And even if companies can find workers willing to brave the cold, they're likely to pay the price in productivity.
Worker productivity in an uncomfortable environment like a freezer can be 30 percent to 60 percent below what it is in ambient storage.
A growing number of warehouse operators, therefore, are finding that it's far better to bring in automated storage and retrieval systems (AS/RS) to operate in their freezer and cooler sections. It should also come as no surprise that the companies that design and build AS/RS systems have seen the most interest among that industry segment.
"With AS/RS, we continue to see a lot more activity in the temperature-controlled storage market," primarily because of the labor issue that is a common problem there, notes Ken Matson, an executive vice president at FKI Logistex in St. Louis. "People just do not want to work there."
"We're seeing a lot more in coolers and freezers as companies look to lower personnel that have to work there," adds Tom Steininger, a senior solutions consultant at HK Systems, New Berlin, WI.
To be precise, an AS/RS can save labor by reducing a warehouse's reliance on forklifts and the operators needed to drive them. A typical crane may do the work of two or more lift trucks per shift. In order selection, automated layer pickers, for example, can pull a full layer of 15-20 cases in the time that it takes a person to handle one case.
Eliminating some of those spots can seriously impact a company's bottom line. Order picking accounts for a whopping 55 percent to 60 percent of a DC's payroll, and replenishment and put-away for another 25 percent, so automating those functions could save a bundle.
That is, at least, the expectations of Gene Supak, vice president of operations at Blue Bell Creameries, Brenham, TX. The ice cream maker just finished installing two AS/RS machines from Westfalia Technologies, based in York, PA, in its minus-30-degree frozen distribution center in Sylacauga, AL.
The AS/RS, Supak says, will eliminate the need for several forklift operators, "who had to work in a very unpleasant atmosphere," and lead to other reductions in manpower as well.
Beef Products Inc., based in Dakota Dunes, SD, has taken its labor savings a step further. Through the use of automation that extends from the production line, through a 400-foot tunnel to an AS/RS and out to the loading dock, warehouse employees never touch the product until it is time to load it onto a truck.
But with the average AS/RS costing millions of dollars to design, build and implement, and a cost per pallet position that is about twice that of non-automated warehouses, chief financial officers are going to need more than labor savings to justify the cost. Site constraints, long-term contracts and dedicated business profiles all support AS/RS implementations.
Minimizing Space
Though all warehouses are costly to operate and maintain, the costs are greatly magnified when it comes to freezer and cooler space. AS/RS racks can go as high as 115 feet, allowing for high-density storage that will reduce the footprint of the building and cut down on the cooling costs. Some DCs have reported that cooling or providing humidity control for these denser AS/RS-equipped storage areas cost about half as much as traditional warehouses.
That is where the true benefits of BPI's AS/RS deployment are realized. With manufacturing approaching 1 million pounds of beef per day, and cold storage needs for more than 20 million pounds, it had been using outside freezers, but the associated costs were seriously eroding its already-thin profit margins. Building its own facility seemed out of reach.
With an automated solution, it was able to minimize the building size requirements. In the end, it had a 213-foot-long, 95-foot-wide and 102-foot-high rack-supported freezer complete with 40 bays of storage and a single aisle, with two high-speed storage retrieval machines servicing 10-deep storage lanes on both sides of the aisle. The entire facility measures just 20,235 square feet and has enough capacity for 11,886 pallet loads.
Organic Valley Family of Farms, LaFarge, WI, turned to automation for its cold storage needs for many of the same reasons. When the company opens a new $15 million, 80,000-square-foot distribution center in Cashton, WI, in mid-2007, three AS/RS machines from Westfalia will operate in the temperature-controlled areas used to store fluid milk from Midwest dairy farms and other specialty products.
Two AS/RS cranes will move throughout the 35-40-degree cooler area and one crane will operate in the minus-10-degree freezer. The storage racks will stand 80 feet tall and have the capacity to handle up to 12,000 loads of Organic Valley products.
More than 50 Organic Valley employees will work at the facility, which is being built to bring multiple distribution operations under one roof.
"The AS/RS allows this facility to havea smaller footprint than typical ware-houses," says Louise Hemstead, Organic Valley's chief operating officer. "We want to use as few land resources as possible."
Real estate concerns were also an impetus for Blue Bell Creameries. "We had reached the point where we needed additional cold storage capacity," explains Supak, "and be-cause of the limited space, our only real option was a high-rise room using AS/RS."
For these firms, operational efficiencies and worker safety are also part of the equation.
"We also expect the system will enhance our inventory management and virtually eliminate product loss due to expiration dates," Hemstead says. "Safety is improved since employees are not moving heavy loads overhead as they would in conventional warehouses."
The AS/RS also allows for improved employee working conditions. The building can be kept at more moderate temperatures. Customer requests also can be met more quickly since AS/RS improves inventory numbers, she continues.
Cost Concerns
It's because of these benefits that AS/RS has found a home in the food industry. The systems work well in both cold and dry storage, but there is a stronger business case in cold storage, system suppliers agree. Many companies that have employed these systems there have seen a return on investment in less than three years.
Several retailers, such as Royal Ahold's Stop & Shop chain and Kroger, have employed AS/RS in their distribution centers, but "automation is more common on the food manufacturing side," observes Juergen Baumbach, director of consulting services at European material handling firm Swisslog. "More firms are bringing product in from an automated production line and putting them in cases and on pallets which go right into the warehouse AS/RS."
As interest grows for these systems in the United States, the one obstacle that solution providers have had to overcome is the belief that systems cost too much money and cannot be placed in existing warehouse facilities.
"With these types of systems, you can automate existing facilities," says Jay Adams a food and beverage account manager at HK Systems. "So many people think they will have to build a whole new facility, and that's just not the case."