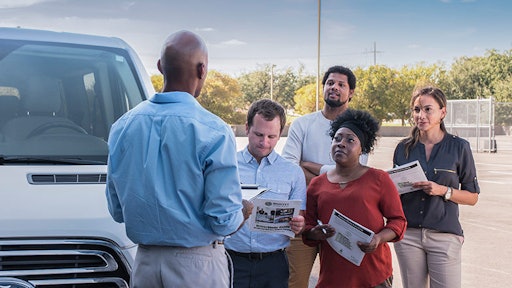 The requirements for creating and maintaining a culture of safety vary significantly from one industry to the next. However, while the tasks that workers do on a daily basis may dramatically differ, one commonality in many workplaces is that employees get behind the wheel.
While the type of driving environment, the amount of time spent driving and challenges may be different, the need for safe drivers is universal. To have a "driving safety" culture in the workplace, employers must recognize the need for safe drivers and make it a top priority.
Some industries are more at-risk when it comes to driver safety than others, though. The trucking industry remains the profession with the highest number of workplace deaths, with 885 fatalities for every 100,000 drivers, according to the Bureau of Labor Statistics in 2016. Beyond that sobering number, the Bureau also reports that motor vehicle crashes remain the No. 1 cause of work-related deaths in the U.S.
Those fatalities are costly, both in terms of human capital and the company's bottom line. Fatal crashes cost employers about $671,000 per incident, according to the CDC Foundation, and non-fatal motor vehicle injuries average about $65,000 per incident.
Expenses related to non-fatal workplace crashes include direct costs like medical expenses, as well as indirect costs such as hiring temporary employees, lost productivity and damage to a company's reputation. In all, the CDC Foundation reports, it adds up to about $25 billion each year for employers.
Who Needs a Driving Safety Program?
Specific industries that cater to a driving culture are aware of the need for a driver safety program. Beyond the trucking industry, companies whose employees spend a large part of their day behind the wheel often implement advanced driver safety training, too. These careers range from pharmaceutical sales reps to construction workers to first responders.
However, even professions whose primary function does not include driving as part of their job duties can benefit from taking a closer look at how driver safety affects the company and what can be done to create a culture of driver safety.
In the 2018 Driver Safety Risk Report conducted by the employee vehicle management firm Motus, only about 43 percent of companies currently require driver safety programs for employees who use company-owned vehicles. Moreover, less than half that amount — just 19.5 percent — require employees who use their own vehicles to participate in mandatory driver safety programs.
This represents a tremendous oversight on the part of companies that are committed to a culture of safety. Good safety practices should always include driver safety training. As our workforce continues to become more mobile, the need for developing a culture of driving safety will be a crucial component across the board.
Four Steps to Creating a Driving Safety Culture
Creating a culture of driving safety begins at the top, and it must be embraced and enforced at every level to be truly successful. Every company can — and should — take the simple steps required to implement a driver safety program that is tailored to its specific needs.
Here are four steps companies can take to begin building a driving safety culture.
1. Assess your needs. Look at which employees are behind the wheel and how frequently they're behind the wheel on company time. This should include everything from the employee who is driving every day on sales calls to the administrative assistant who drives to an office supply store twice a month to stock up on office essentials. Identify all employees who drive on behalf of the company, regardless of how much time it involves and whether they're using a company vehicle or their own car.
2. Provide advanced driver training. While many employees need driver training, they may not each need the same type of training. Identify which employees spend a lot of time behind the wheel — such as someone driving to make air conditioning repairs — and enroll them in an advanced behind-the-wheel driver safety training program. Workers who spend less time behind the wheel may be fine with e-learning courses. Start with the highest risk (drivers who drive the most) and work your way down.
3. Set the tone. As with all safety programs, driver safety initiatives are most successful if they're supported from the top down. Develop a program, make sure every employee understands what is expected and then roll it out quickly so that you maintain enthusiasm and excitement. When employees are properly trained and held accountable for what they've learned, the program becomes part of the safety culture.
4. Reinforce what's been taught. Driving safety isn't just a one-and-done proposition. Back up your training with e-learning refresher courses, and enroll frequent or daily drivers in an advanced behind-the-wheel refresher course every two years. In addition, create a policy that requires frequent drivers to report any traffic violations, regardless of whether they occur on the clock, within a specified amount of time.
Benefits of a Driving Safety Culture
The benefits of creating a culture of driving safety extend to financial payoffs for the company. Employees who enroll in advanced driver safety training save the cost of insurance claims, lost productivity, damage from crashes and bad publicity.
In making your workers safer, you'll also be keeping the roads of your community safer. Even as vehicles are becoming safer and equipped with more advanced crash-avoidance technology, crashes are on the rise. The many demands on drivers, from the distracted drivers around them to fatigue to the pressures of their own jobs, can put them at risk.
A company culture that embraces driver safety can help improve your drivers' wellbeing by improving their safety behind the wheel.