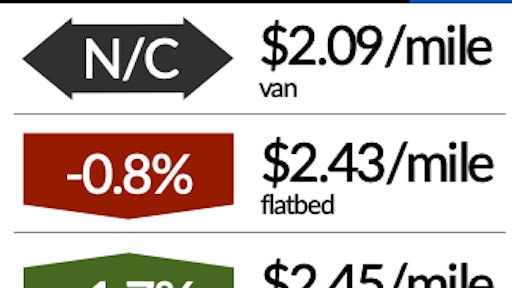 Spot refrigerated freight rates rebounded during the week ending Nov. 10 as volumes build ahead of the Thanksgiving holiday, said DAT Solutions, which operates the DAT network of load boards.
Meanwhile, a "bubble" of van freight is moving east from Los Angeles, where ports have seen an influx of Asian imports in recent weeks.
National average spot truckload rates:
Van: $2.09/mile, unchanged compared to the previous week
Reefer: $2.45/mile, up 4 cents
Flatbed: $2.43/mile, down 2 cents
Nationally, spot market capacity increased 4.4% while the number of available loads increased 1.1% last week. Average load-to-truck ratios last week:
Van: 5.2 loads per truck
Refrigerated: 7.0 loads per truck
Flatbed: 17.4 loads per truck
Load-to-truck ratios represent the number of loads posted for every truck posted on DAT load boards.
Reefer Trendlines: The number of reefer load posts on DAT load boards rose 9 percent while truck posts fell 5 percent nationally.
Western produce markets were paced by higher load counts in Nogales, Arizona; Fresno; Los Angeles; and Sacramento. Los Angeles outbound reefer freight averaged $3.13/mile, up 8 cents compared to the previous week, and Denver jumped 10 cents to $1.76/mile. Rates on two reefer lanes in the West rose substantially:
- Nogales to Dallas, $2.59/mile, up 41 cents (avocados on the move)
- Sacramento to Los Angeles, $3.00/mile, up 24 cents
In the Midwest, reefer volumes sharply decreased in two major markets: Chicago ($2.96/mile, unchanged) and Grand Rapids, Michigan ($3.37/mile, up 1 cent). It's a sign that apple-shipping season is winding down and rates are about to go soft.
Van Trendlines: The number of van load posts on DAT load boards dipped 5 percent while truck posts increased 4% last week. Rates from Los Angeles ($2.79/mile average, up 10 cents last week) are up 8 percent over the past month, driven by imports from Asia.
A surge of van freight into California ports is moving west and showing up as rising outbound volumes from Chicago, Columbus, and Memphis. There appears to be ample capacity, which is holding rate increases to minimal levels, if they move up at all. However, strong rates from Los Angeles persist:
Los Angeles to Atlanta, $2.43/mile, up 20 cents
Los Angeles to Denver, $3.40/mile, up 19 cents
Los Angeles to Phoenix, $3.56/mile, up 14 cents
Flatbed Trendlines: Flatbed activity on DAT load boards got a bump last week. Load posts increased 8%, while truck posts rose 5%.