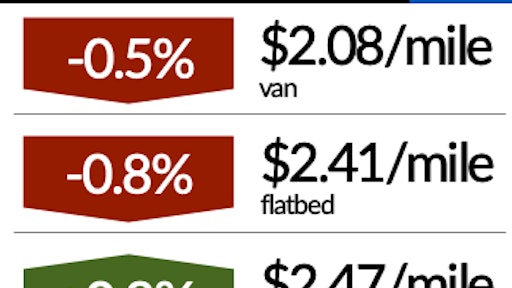 The national average spot refrigerated freight rate increased for the third straight week as grocers stock shelves ahead of the Thanksgiving holiday, said DAT Solutions, which operates the DAT network of load boards.
The average van rate fell during the week ending Nov. 11, while the flatbed rate continued its seasonal decline.
Demand for reefer and van capacity is building as the calendar year draws to a close. The number of available loads on DAT load boards jumped 6.7 percent while the number of trucks fell 2.2 percent last week.
National average spot truckload rates reflected the stronger market for spot freight:
- Reefer: $2.47/mile, up 2 cents
- Van: $2.08/mile, down 1 cent
- Flatbed: $2.41/mile, down 2 cents
One trend to watch: the spot van market in mid-November is generally weaker this year compared to a year ago. Shippers appear to be making a concerted effort to reduce spot-market exposure by increasing the use of contract carriers, rail intermodal, and overall better planning now that the ELD mandate is firmly in place.
Reefer trends: Spot reefer volume rose last week, with load posts up 12 percent while truck posts increased 4 percent. The national average reefer load-to-truck ratio climbed from 7.0 to 7.5 loads per truck.
The Central Valley of California (carrots, celery, grapes, lettuce), western Michigan (poultry and produce), and southern Idaho (potatoes) were hot markets for reefer freight. The reefer load-to-truck ratio in Twin Falls, Idaho, topped 40 last week, meaning there were 40 available reefer loads for every available truck.
On many of the busiest reefer lanes, rates increased by double digits compared to the previous week to hit the upper $3/mile range.
Van trends: Van load posts on DAT load boards increased 7 percent while truck posts declined 4 percent. The national average van load-to-truck ratio was 5.3, a 12 percent increase from the previous week. That's the largest weekly increase in the van load-to-truck ratio since June.
Demand for trucks pushed spot van rates higher in many key retail freight markets, including Los Angeles ($2.91/mile, up 11 cents), Memphis ($2.30/mile, up 2 cents), and Buffalo ($2.57/mile, up 4 cents).
In California, where record imports have given spot rates a boost, volumes on intrastate lanes were lower, possibly due to supply chain disruptions caused by wildfires in the state.
Flatbed trends: Flatbed load posts increased 3 percent last week while truck posts declined 3 percent. The national flatbed load-to-truck ratio was up from 17.4 to 18.5 loads per truck.
DAT Trendlines are generated using DAT RateView, which provides real-time reports on spot market and contract rates, as well as historical rate and capacity trends. The RateView database is comprised of more than $57 billion in freight payments. DAT load boards average 1 million load posts per business day.